Stop Wasting Time Manually Creating Quizzes
Use the world's fastest quiz maker instead.
Quickly convert any text, document, or URL into an interactive quiz with ease. Perfect for businesses, teachers, and students.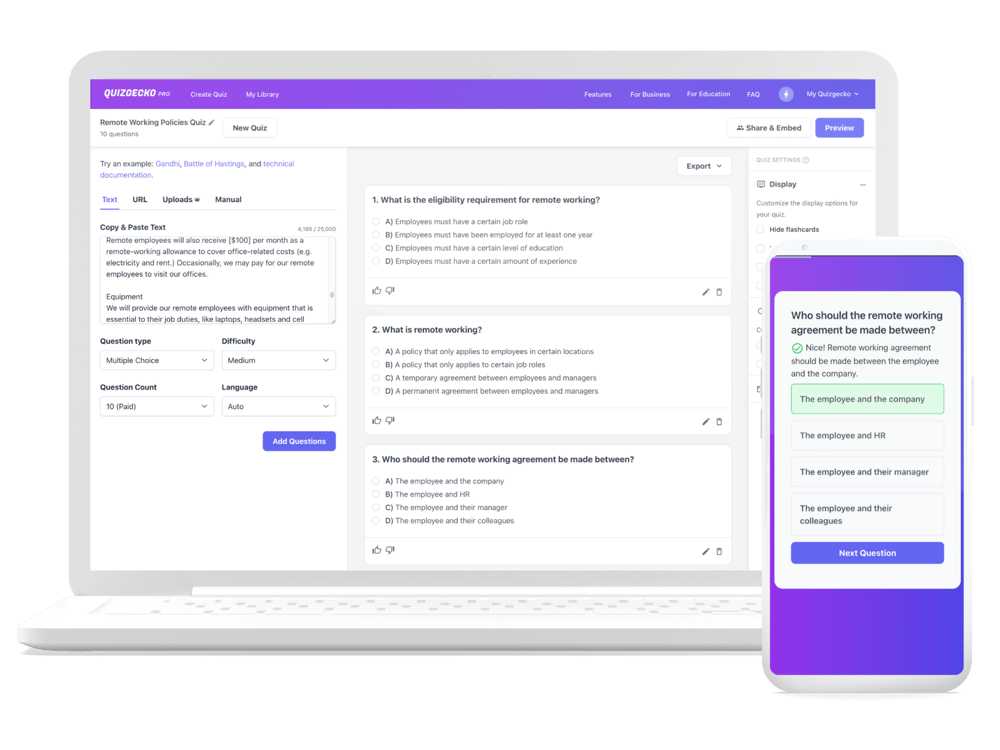 Business

Create quizzes in no time to boost knowledge and audience engagement. Whether it's for delivering trainings, developing courses, or generating leads - we've got you covered.

Educators

Elevate your teaching with AI-powered quiz, flashcard, and note generation. Save time on content creation and enhance student engagement with unique content.

Students

Learn smarter. Enjoy AI-generated quizzes, flashcards, and notes tailored to your unique learning needs. Save time, boost retention, and ace your exams with ease.
Create
Make content instantly
Welcome to new way to create quizzes, flashcards, and notes. You'll never go back.
Fast.

Quizgecko is a versatile quiz platform that can transform any text into various question formats. Consistently come up with new ideas and inspiration, while saving time and effort.

Flexible.

Generate multiple choice, true or false, short answer essay, and fill-in-the-blank style questions. Upload files like PDFs, DOCs, and PPTs to create quizzes and exams.

Integrated.

With our handy Chrome extension, you can create quizzes and flashcards in a single click. Quizgecko can even generate entire quizzes from Youtube videos.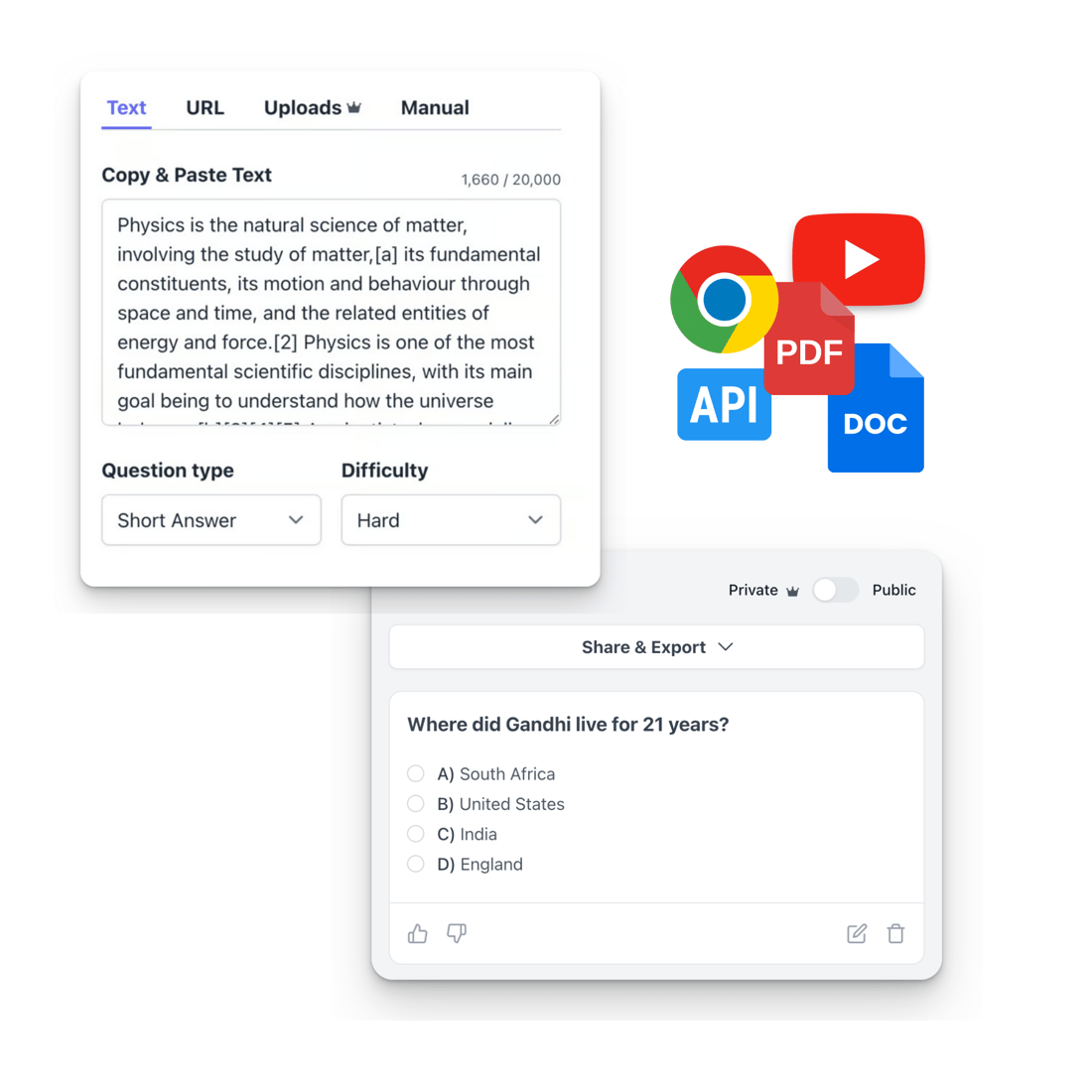 Share & Embed
Publish with ease
Effortlessly share and embed quizzes with your team, students, or use them as study aids – get everyone engaged and enhance learning experiences in just seconds.
Share.

Share quizzes effortlessly with students or colleagues using Quizgecko.

Export.

Download as text, csv and Aiken format for seamless integration into your learning management system or classroom setting

Embed.

Add quizzes in your own website, LMS or blog. Perfect for lead generation, engaging your users and custom learning experiences.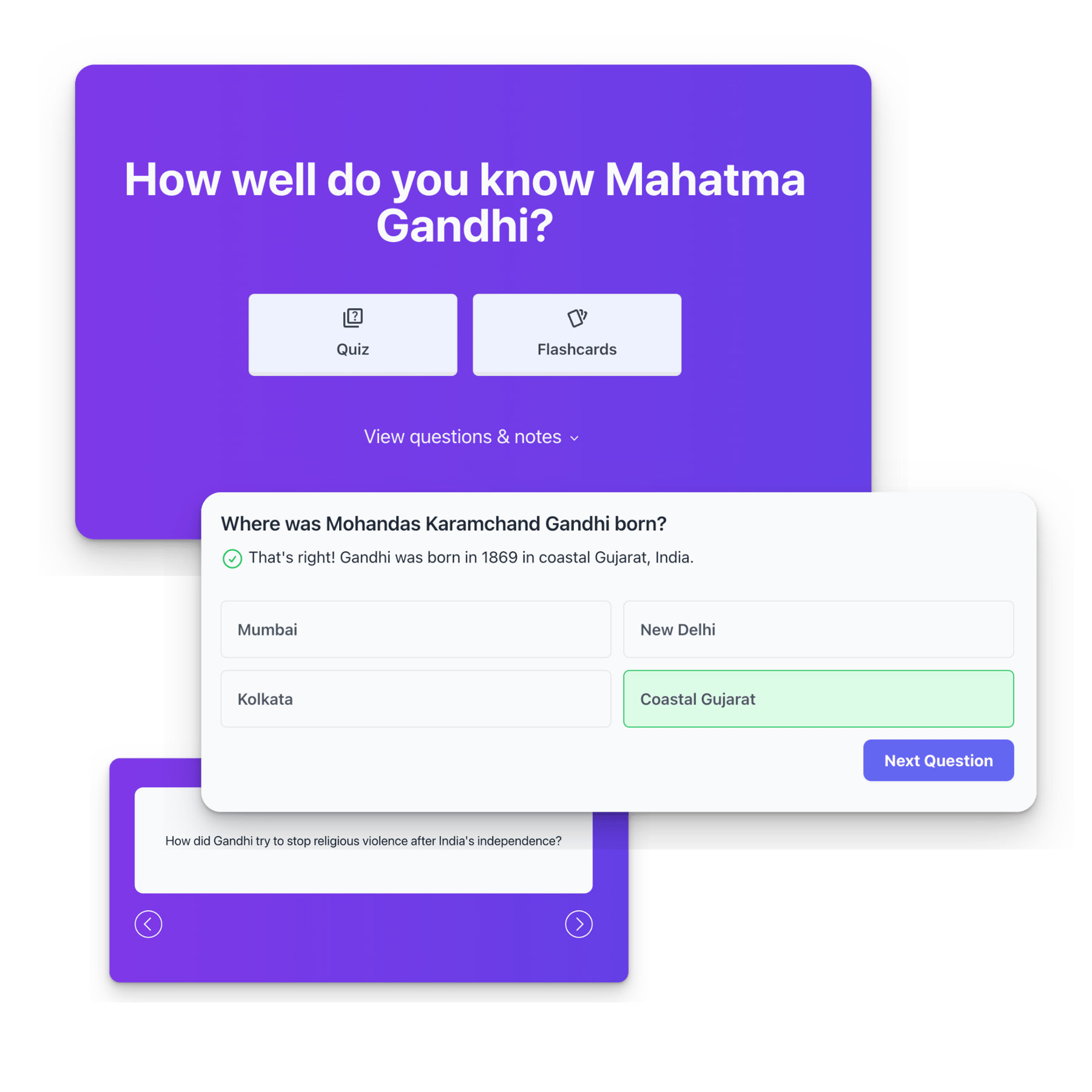 Analyze
Measure performance
Reports and stats to understand how individuals and groups performed. Auto-graded quizzes make marking a thing of the past.
Auto Grading.

Quizgecko intelligently evaluates and grades short answer questions, going the extra mile by offering valuable suggestions on how to improve and attain higher scores.

Smart Reports.

See how employees or students are performing with our smart analytics reports.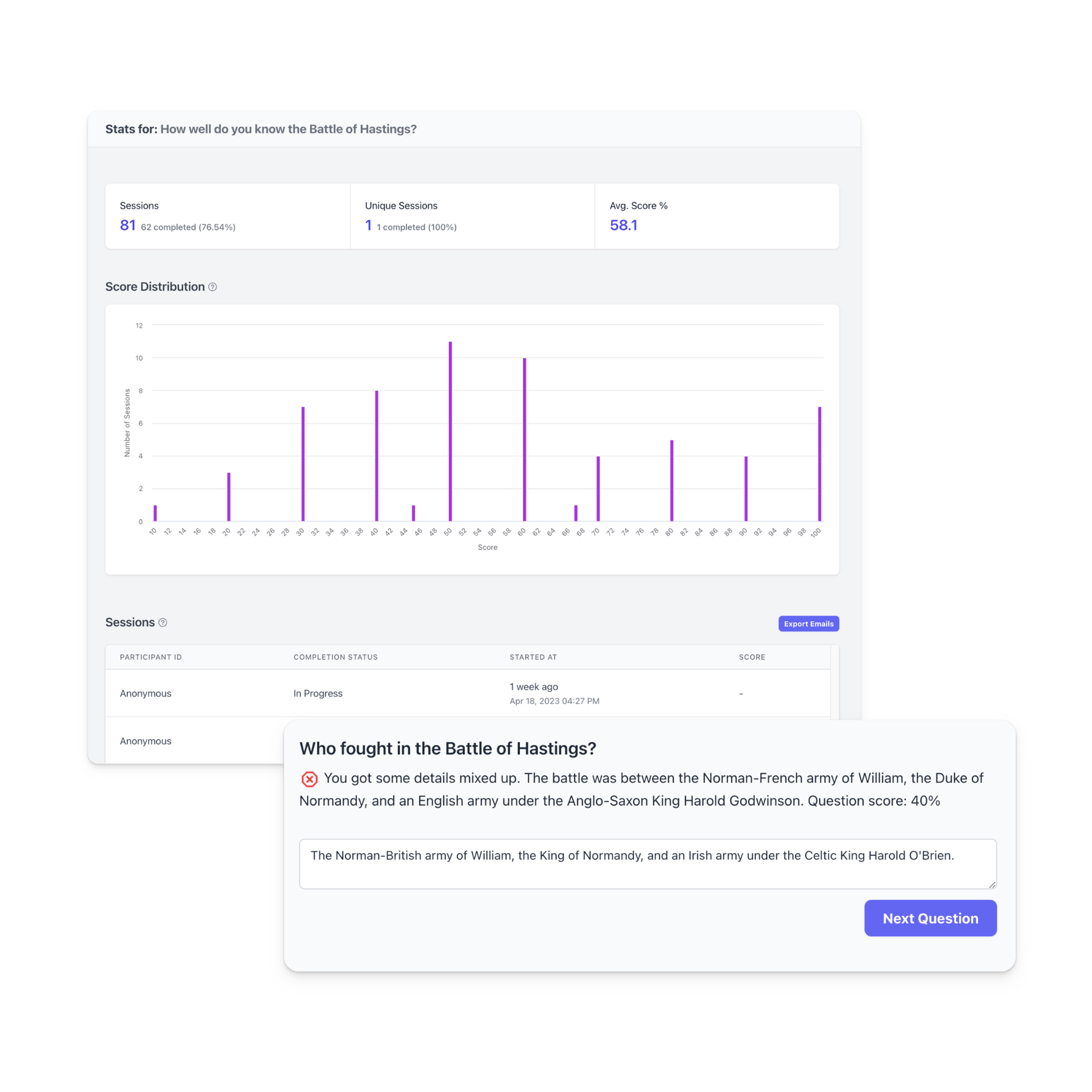 What our customers are saying
Start for free and upgrade when you need to
Generate more questions
Never run out if ideas again. Our plans scale as high as you need.
Add more text
Increase the character count and question limits, generate up to 12 quiz questions each time.
Upload Files
Increase the character count and question limits, generate up to 10 quiz questions each time.
How does Quizgecko work?

Quizgecko's AI-powered question and answer generator works by first analyzing and extracting the key facts from any text. Then we use the same AI that powers ChatGPT to generate different types of questions and answers. You can learn more here.

What can I use it for?

Quizgecko is perfect for generating quizzes, exams and tests. Whether you are a teacher, student or business, you'll find that the platform is flexible enough for all purposes. You can export content, embed it, share quizzes with anyone to take online. Then get reports and stats on the results.

How do I create a quiz?

To create a quiz, first you need to either some text, a URL or upload a suitable file. Then simply hit generate. You can optionally pick the type of questions you want, the difficulty and the number of questions you want to generate.

What type of quiz questions can I create?

You can create multiple choice questions, true or false questions, short answer questions and fill in the blank style questions from any text. By clicking "Add" after you have generated the first set of questions, you can add additional questions to your quiz. We have a large set of sample quiz questions here, all of which were made with Quizgecko.

How much text do I need to add?

We recommend that you use a minimum of 500 words. More text will generally result in better questions. If you want to generate up to 12 questions then you'll generally need over a thousand words. We recommend that you break very long pieces of text into topical categories.

How can I improve the quality of results?

Virtually any text will work but using factual text content (as opposed to opinion, discussion or narrative) generally results in better questions. If you notice that the AI is frequently generating incorrect answers, then this is typically because the text is suboptimal.

How can I share my quiz?

To share a quiz, first you need to set it to public. Then you can copy the shareable URL and share it with your team, students or friends. Before sharing, you can optionally configure the quiz settings.

How can I export my quiz?

You can currently export your quiz either as simple text or as a CSV. The text export use the Aiken format, which is compatible with many popular LMS platforms.

What text can I use to generate quiz questions?

Quizgecko is an AI Question generator for any text. You can use text from any source e.g. articles, presentations or notes. Alternatively, input URLs and upload files (Pro), then we'll try to extract the text and make quiz questions from it. Please ensure you have the right to use the text first.

Are the answers always correct?

If quality, accurate text is used, then it's rare for the AI to make factual errors. It's important to note though, that like humans, the AI can make mistakes and 100% accuracy cannot be guaranteed.

Can I generate more than 12 questions? I have a very long PDF / article / book etc.

The existing maximum per generation is 12. However, you can make quizzes with more than 12 questions simply by repeating the generation process. If you have lots of text, we recommend that you break it up, ideally into topically categories. To split large PDF files, simply do a Google search for "Split PDF" and you'll find lots of free tools. Business Premium and Enterprise users can also use our API to generate quizzes and exams automatically.

How do I cancel my subscription?

You can cancel your subscription at any time simply by clicking "Cancel Plan" in the billing section. Please check you are logged in first. If you cancel, you will continue to have access to your account until the end of your current billing period. If you cancel during your current billing period, you will not be charged for the next billing period.

Do you offer a free trial?

We don't offer free trials, but we do offer a free plan that allows you to generate up to 3 quizzes per month. This is normally enough to try out the service and see if it's right for you.

Do you have an API?

Yes, you can use our API to generate questions from text. Ideal for developers who want to implement question and answer generation into LMS platforms, e-learning platforms, or other applications. Learn more.

Do you have a Chrome extension?

Yes, we have a free Chrome extension that allows you to generate questions and answers directly from any web page. Install our Chrome Extension.

Can I generate a quiz from a Youtube video?

Yes! Simply copy and paste the Youtube URL, or use our Chrome extension to generate questions from the video transcript.