AI Powered
True or False Generator
Turn any existing content into a true or false question with our AI powered generator. Enhance engagement and learning by autonomously generating online quizzes, tests, and assessments that can be readily shared.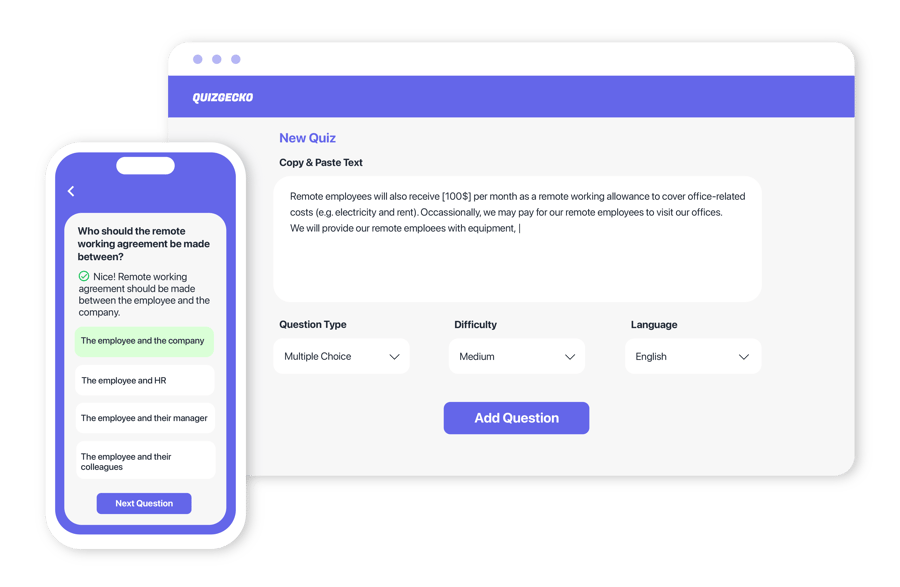 Trusted by businesses, educators, and individuals worldwide.
Business

Create assessments in no time to boost knowledge and evaluate skills. Whether it's for delivering trainings, developing courses, or certification - we've got you covered.

Educators

Elevate your teaching with AI-powered quiz, assessment, and exam generation. Save time on content creation, grading, and enhance student engagement.

Students

Learn smarter. Enjoy AI-generated quizzes, flashcards, and notes tailored to your unique learning needs. Save time, boost retention, and ace your exams with ease.
How to generate a true or false quiz
Step 1
Sign up for Quizgecko and select the True or False option. You can also use the platform to generate multiple choice, true/false, short answer, and fill in the blank questions.
Step 2
Upload your content or use a URL to generate questions. Quizgecko uses the latest learning science to guide the AI to generate good questions.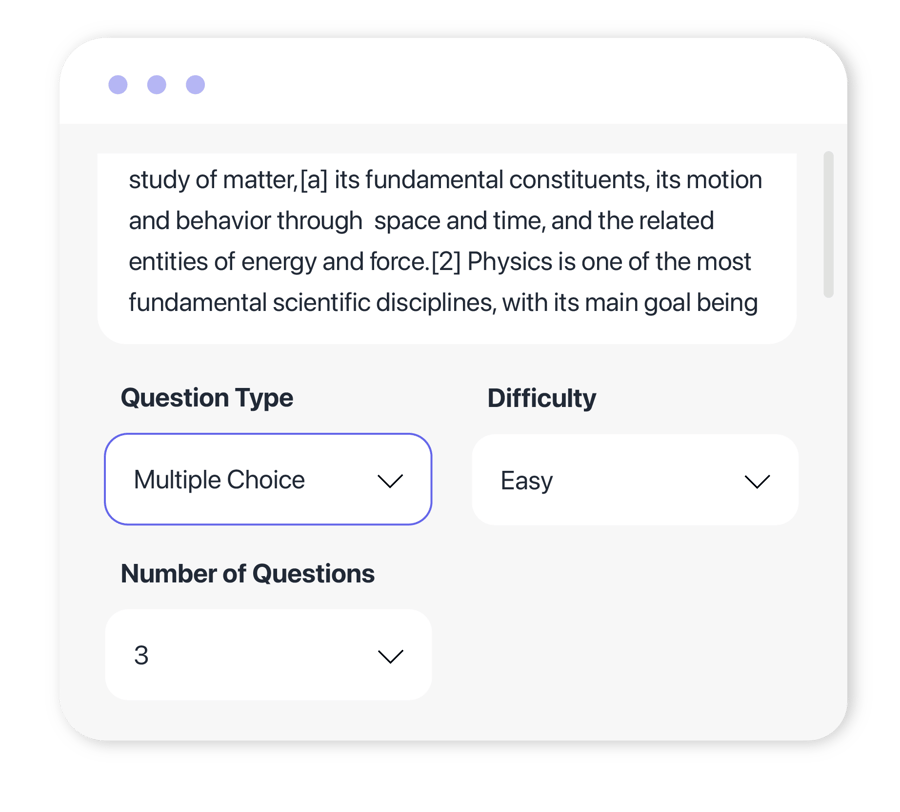 Step 3
Once you have generated your questions, you can export them to text or CSV to easily import into other LMS platforms. You can also give the quiz to students and learners to test them. With Quizgecko, you can quickly create quiz questions much faster than ever before.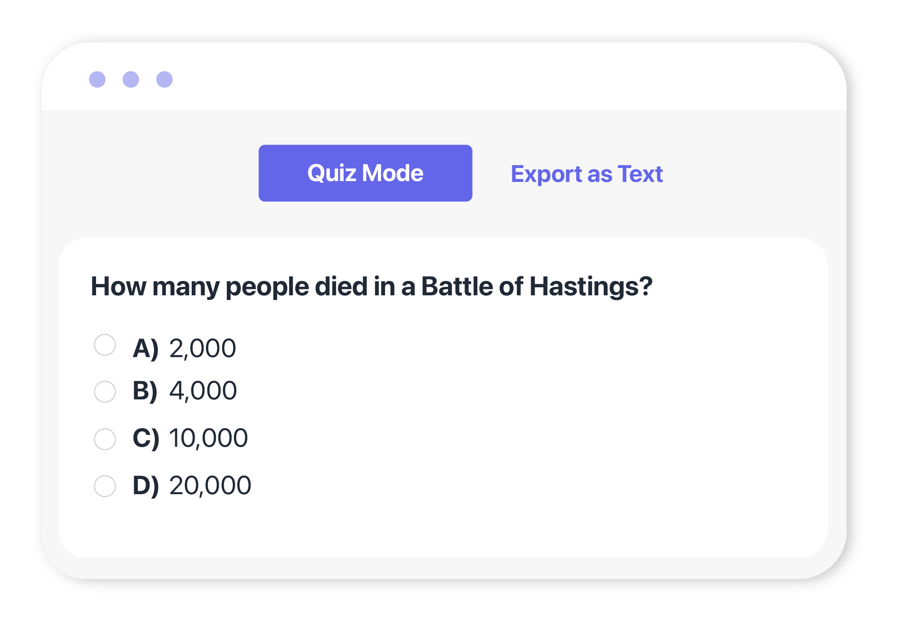 Creating Engaging True or False Quizzes with AI
True or false questions seem simple, but designing a good quiz takes skill and practice. As educators, we want to challenge students' knowledge, not their guessing abilities.
Thankfully, AI can now help take care of the busywork while applying proven techniques to generate true or false quizzes.
How AI Tools Create Better True or False Questions
With Quizgecko's Question Maker, simply provide any study material - text, webpages, videos, etc. Our algorithms will review the content and generate a full true or false quiz for you.
The questions will be clear and concise, avoiding complex vocabulary or ambiguity. Our AI focuses on testing comprehension of one key concept at a time.
Statements are designed to make learners think critically. Options are plausible yet misleading if students don't fully understand the material. Our algorithms actively vary language and structure to keep students engaged throughout the quiz.
In short, we handle the meticulous details so you can focus on teaching key concepts. Quizgecko's AI is constantly trained on real educator data to improve its quiz creation abilities.
Benefits of AI-Powered True or False Quizzes
Well-designed true or false questions provide valuable assessment while making learning interactive. Quizgecko delivers quizzes tailored for your needs while saving you time.
Faster Quiz Creation
Turn any study material into a quiz in seconds. No more manually writing statement after statement. Our AI handles the work for you.
Adaptive Learning
Keep improving your quizzes over time. Our algorithms learn from real educator data to constantly enhance relevance and quality.
Detailed Analytics
Get insights into student comprehension. Identify areas for review. Discover trends across classes, cohorts, and time periods.
Engaged Learning
Well-designed true or false quizzes make learning fun and interactive. Tap into this powerful assessment method.
Start Creating Better Quizzes Today
Stop wasting time manually building true or false quizzes. Quizgecko's AI Question Maker handles the process so you can focus on your students.
Sign up now to turn any study material into a complete quiz in seconds. Make learning fun and get back hours in your week with AI-powered true or false quiz creation.
---
For other quiz types, you can also check out Quizgecko's other AI-powered generators:
Create your first quiz, test or assessment for free
Explore the Quizgecko platform and create your first online quiz, test or assessment. No credit card required.