Everything you need to make awesome quizzes
Save hours by quickly transforming text, web pages and files into different quiz formats, using AI and the latest learning science.
Features
The Ultimate Quiz Creator Platform
Create awesome quizzes for work, school, or fun with Quizgecko - the ultimate platform for quiz creators.
Turn any text into a quiz

Quizgecko intelligently generates questions from any text you provide. Just paste in your text.

Shareable quizzes

Share your quiz with colleagues, friends, or students in a breeze!

Multiple question types

Generate multiple choice, true/false, fill-in-the-blank and short answer questions from any text.

Webpage to quiz

Enter the link for any webpage and Quizgecko will generate questions from the text on the page.

Youtube video to quiz

Enter the link for any Youtube video and Quizgecko will generate questions from the transcript.

File to quiz

Turn any PDF, Word, or Google Doc into a quiz. Available on premium plans.

Multiple languages

Create quizzes in any language. Quizgecko even seamlessly translates from one language to another.

API

Integrate Quizgecko into your own app or website. Available on premium plans.

AI powered marking

Quizgecko uses AI to mark your short answer questions. It even offers feedback and learning tips.

Huge text input

Add up to 25000 characters of text in a single input.

Fully Editable

Generated quizzes are fully editable. Change the order, remove, edit and add questions manually.

Export & Embed

Export your quiz as a CSV or Aiken format text file, ready to import into your LMS. Embed quizzes in your own website.

Reports & Stats

View detailed reports including individual sessions, score distribution, and more. Collect emails from quiz takers and export them as a CSV file.
How it works
2) Choose question format
Pick from multiple choice, true/false, short answer or fill in the blank. Optionally tweak the difficulty and number of questions to generate.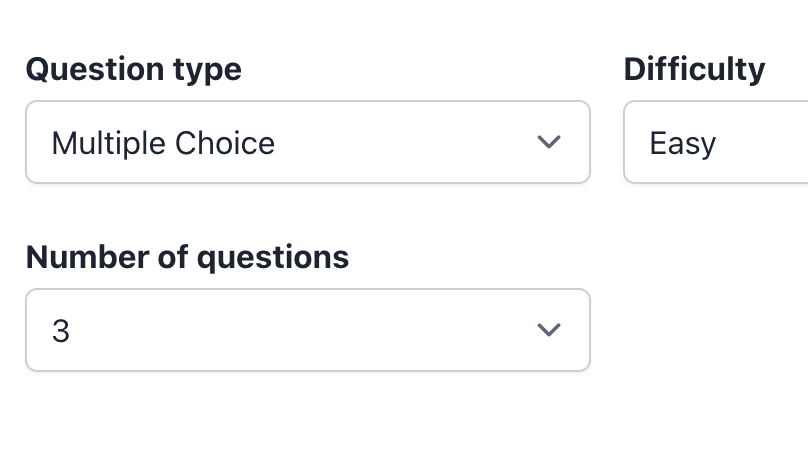 3) Edit and export
Try out the quiz questions in our interactive preview or switch to export mode to polish and export the results to the platform of your choice.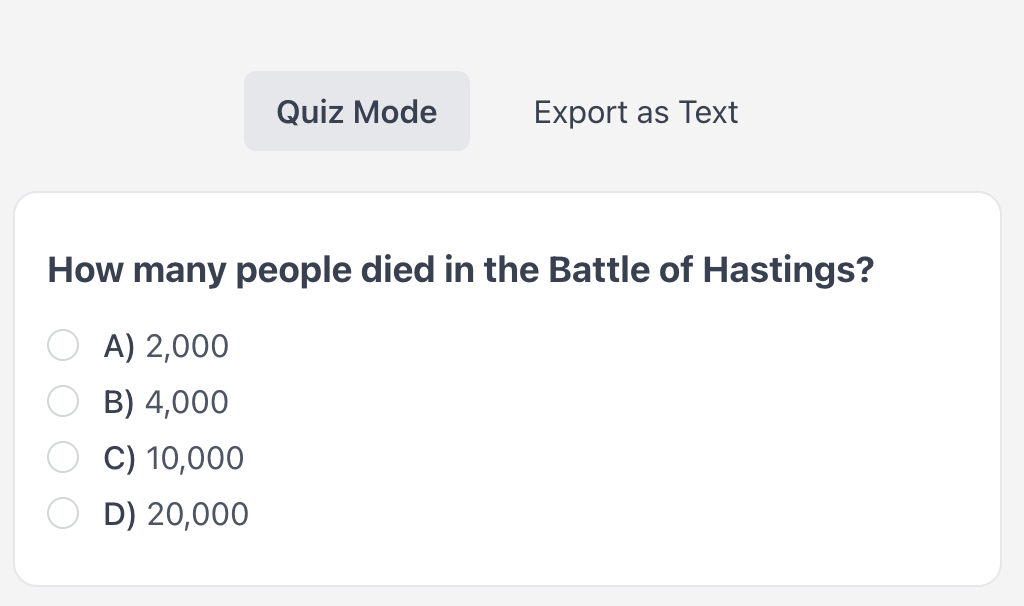 Introducing Quizgecko: Your AI-Powered Quiz Maker
Quizgecko revolutionizes the world of quizzes by harnessing the power of AI to generate questions based on cutting-edge learning science.
Effortlessly create multiple choice, true/false, short answer, and fill-in-the-blank style questions with a special focus on crafting high-quality multiple choice questions. Research has consistently demonstrated that multiple choice questions effectively reinforce and evaluate teaching, making them a popular choice for assessments that accurately distinguish students' grasp of the material.
However, crafting multiple choice questions can be a daunting task for learning professionals. That's where Quizgecko's AI comes into play. AI significantly reduces the time and cost associated with creating impactful questions, allowing educators to focus on what matters most – teaching.
We take several steps to try to automate effective question generation based on learning science, including:
Encouraging the AI to generate plausible distractors
Steering the AI away from "none-of-the-above" and "all-of-the-above" answer choices
Keeping tests challenging, but not overly difficult
Using simple language and vocabulary, without grammatical errors
Keeping answer choices a similar length
The science of learning and AI is an ever-evolving field, and we understand the potential for improvement. Therefore, at Quizgecko, we strive to leverage the latest research to provide professionals with easy-to-use tools to create high-quality learning content that improves over time.
Ready to create your own quiz?