AI Powered
Exam Question Generator
In search of a swift, effective method for crafting exam questions? Discover Quizgecko, the AI-powered exam generator designed to transform your workflow.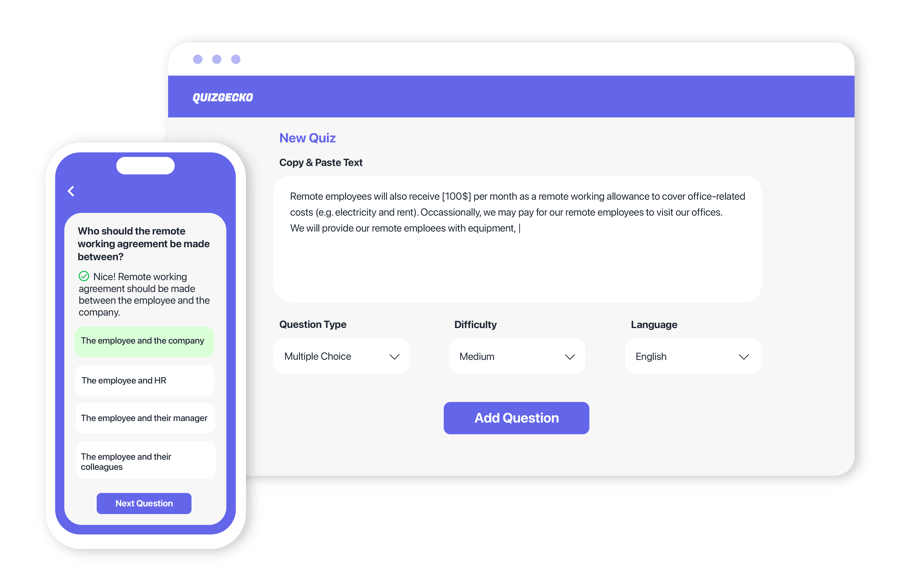 Trusted by businesses, educators, and individuals worldwide.
Business

Create assessments in no time to boost knowledge and evaluate skills. Whether it's for delivering trainings, developing courses, or certification - we've got you covered.

Educators

Elevate your teaching with AI-powered quiz, assessment, and exam generation. Save time on content creation, grading, and enhance student engagement.

Students

Learn smarter. Enjoy AI-generated quizzes, flashcards, and notes tailored to your unique learning needs. Save time, boost retention, and ace your exams with ease.
Generate an Exam with Quizgecko
Upload Your Content
To begin using Quizgecko as your exam generator AI, simply upload your teaching materials, such as lecture notes or textbook excerpts, in the form of files or URLs. This will serve as the source content from which the AI will generate accurate and unique questions. As a versatile quiz maker, Quizgecko supports various question formats, including multiple choice, true/false, short answer, and fill in the blank questions.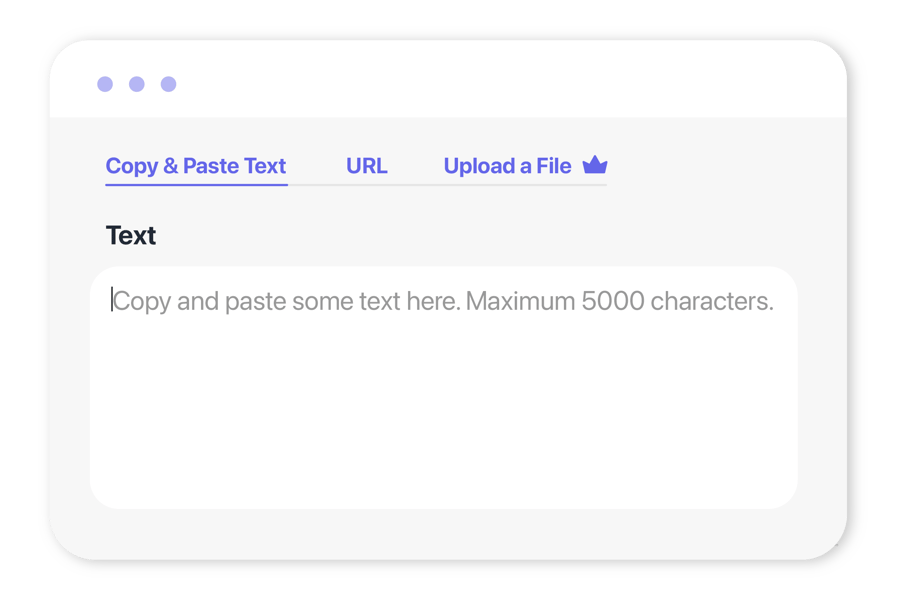 Customize Your Exam Settings and Quiz Options
Once your content is uploaded, you can customize your exam settings by choosing the types of questions you want the AI to generate. You can also set the difficulty level and other advanced options available for Pro users. When your exam is ready, easily export it in text or CSV format, allowing seamless integration with other Learning Management Systems (LMS). Quizgecko's user-friendly platform ensures that you can create exams rapidly and error-free.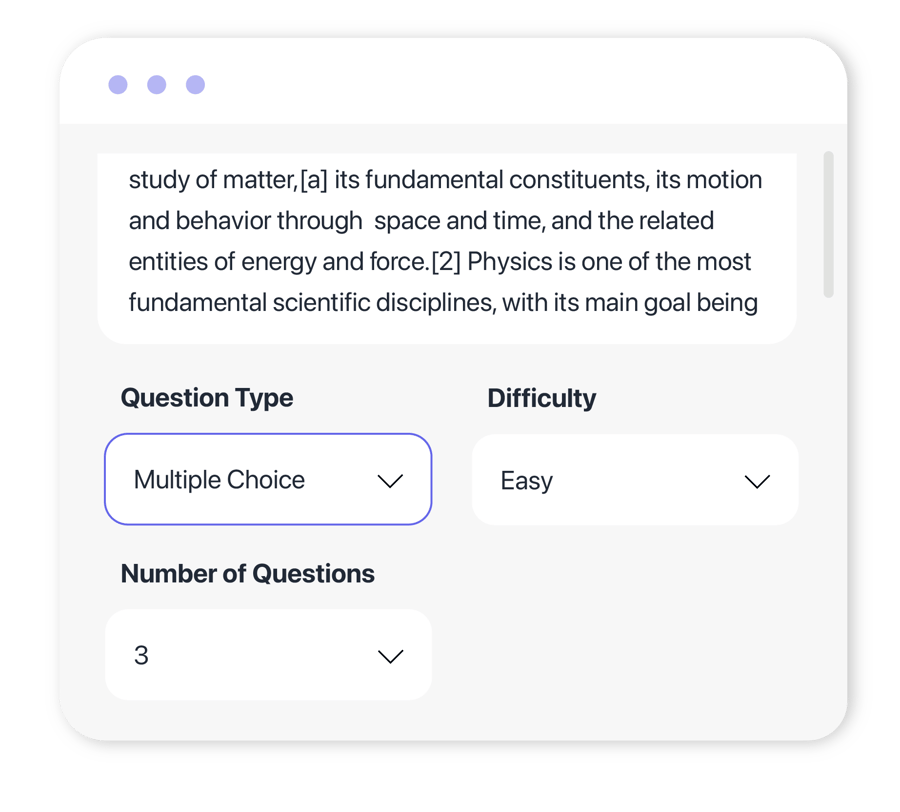 Share and Embed Your Exam
After generating the exam with Quizgecko, you can use the shareable quiz mode to allow students and learners to take your tests. Additionally, you have the option to embed the quizzes directly into your own website or LMS. For developers looking to further integrate Quizgecko into their platforms, an API is also available. Experience the benefits of an AI-powered question generator and transform the way you assess your students' learning.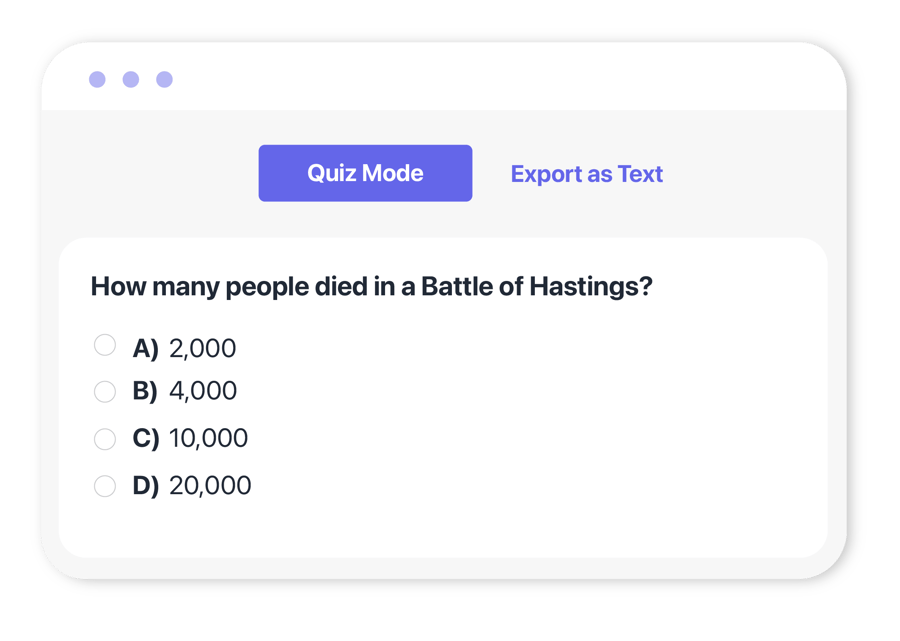 Generating Great Exams With AI
Are you looking for a quick and efficient way to create quizzes for your exams? Look no further than Quizgecko, the ultimate exam generator AI tool that will revolutionize your quiz-making process.
Quizgecko offers a wide range of features to make your life easier. With the ability to generate multiple choice, true/false, short answer, and fill in the blank questions, this question generator has something for everyone. You can even export your quizzes to text and CSV formats for easy importing into other LMS platforms.
Not only can you upload files to use as a source of content, but you can also use URLs to quickly generate questions based on online articles or resources. This test maker allows you to embed quizzes directly into your own website or LMS, making it incredibly versatile and user-friendly.
The platform is easy to use and can be tried for free. If you love it, you can upgrade to Pro for just a few dollars each month to generate even more questions with advanced options.
Quizgecko utilizes the latest learning science to guide the AI in generating high-quality questions that effectively reinforce and evaluate teaching. Multiple choice questions have been proven to be an effective method of learning, and Quizgecko enables you to take advantage of this research-backed method.
Sharing quizzes with students is a breeze, thanks to the shareable quiz mode that allows learners to take your tests with ease. For developers wishing to integrate Quizgecko with their platform, an API is also available.
Benefits of Using Quizgecko as Your Exam Generator AI
Rapidly create quiz questions: Spend less time on manual question creation and more time on teaching and engaging with your students.
Avoid spelling and grammar mistakes: Utilizing AI technology ensures that your quizzes are always free of errors.
Generate unique questions: Quizgecko can take your existing content and transform it into new and exciting questions.
Accuracy: Since questions are derived directly from your source content, you can trust that the quizzes are accurate and relevant.
In conclusion, Quizgecko is a powerful exam generator AI tool that will save you time and effort while providing you with high-quality quizzes for your students. With its wide range of features, easy-to-use platform, and accurate question generation, there's no better choice for your question generator and quiz maker needs. Try Quizgecko today and experience the difference for yourself!
Create your first quiz, test or assessment for free
Explore the Quizgecko platform and create your first online quiz, test or assessment. No credit card required.