Feature
Share & Embed
Automate the busywork of creating endless test questions and get back hours in your week. Teachers can use the time saved for lesson planning, one-on-one instruction, or other priorities instead. Businesses can invest time in training, mentoring, and core priorities. Engage your students or team members with Quizgecko's automated assessment generator.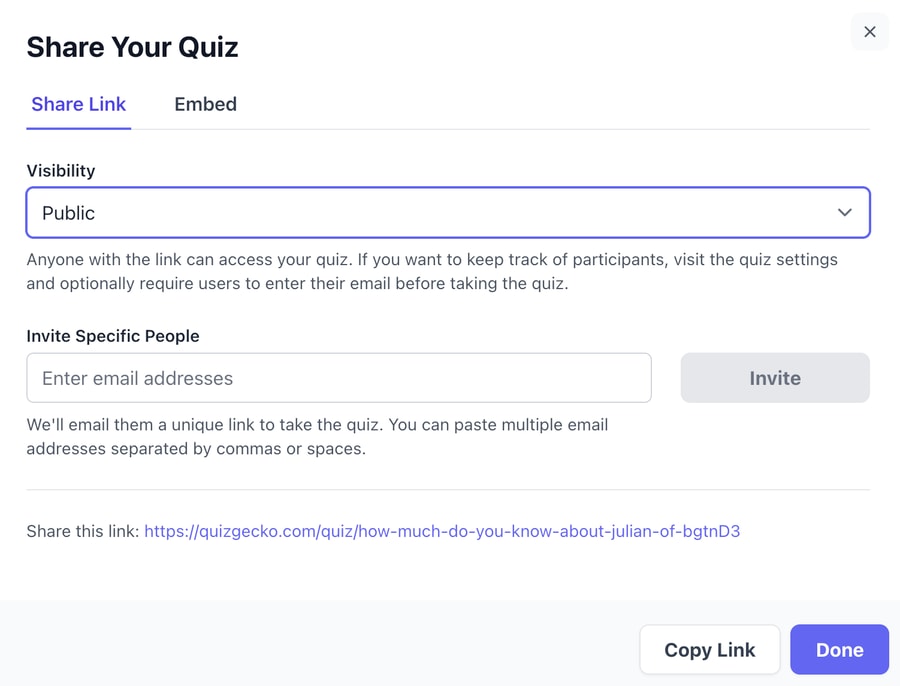 Designed with you in mind
Business
With the help of Quizgecko, you can speed up employee training and learning processes, increase engagement, and assess your team's knowledge.
Teachers
Quick and easy to use. Cut down on the time it takes to create teaching resources. Generate MCQs, true or false questions, short answer questions and more.
Students
Create quizzes from your notes, or from any piece of text. Use Quizgecko to test your knowledge and prepare for exams.
Share your work
Easy to share
Share quizzes effortlessly with students or colleagues using Quizgecko. Decide who can see a quiz or make it public. Gather emails and track participant scores easily.
Export
Download as text, csv and Aiken format for seamless integration into your learning management system or classroom setting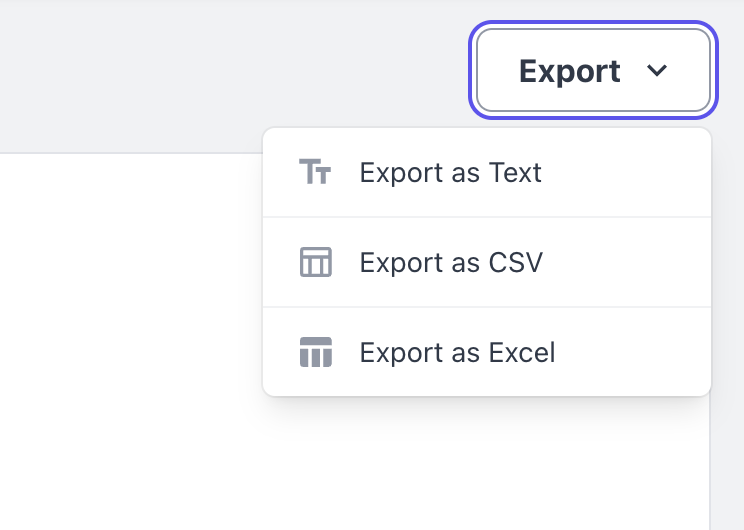 Embed
Add quizzes in your own website, LMS or blog. Perfect for lead generation, engaging your users and custom learning experiences. Remove all branding and whitelabel the experience with our Business Premium plan.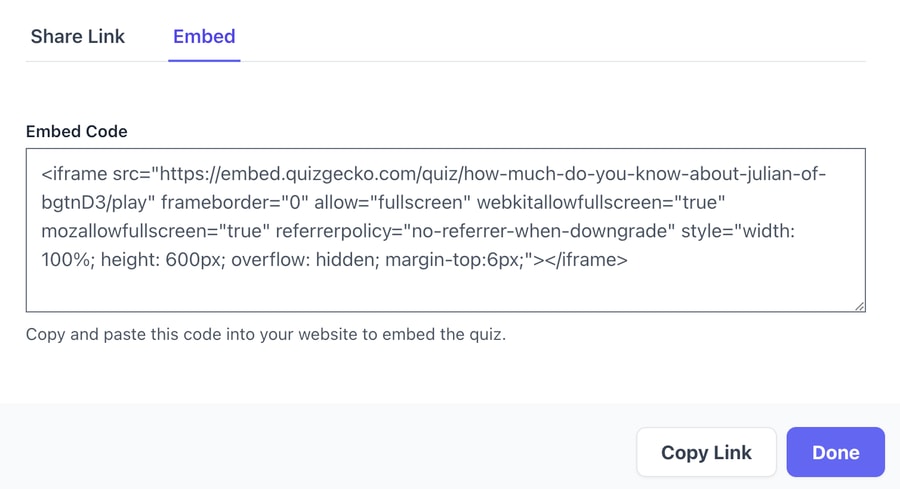 Where can I export my quizzes to?
When it comes to exporting quizzes, a variety of formats and platforms are available to suit different needs and systems. Here are the options you can explore:
Learning Management Systems (LMS)
Canvas: Export directly to Canvas, a popular educational technology platform.
Blackboard: Integration with Blackboard offers smooth export options.
Brightspace: D2L's Brightspace is supported for seamless quiz transfer.
Schoology: Easily transfer quizzes to Schoology.
Moodle: Moodle's extensive community offers support for quiz exports.
itslearning: Tailored for K-12, itslearning provides an option for quiz export.
Sakai: Open-source and versatile, Sakai accepts quiz exports.
Neo: A newer LMS with support for quiz exports.
Standard Formats
QTI2p1: A common standard for exporting quizzes to various LMS.
QTI1p2: An older version of QTI, but still widely supported.
File Formats
Aiken: Simple and text-based, Aiken format is useful for quick exports.
CSV: Export to CSV for a range of applications, including Excel.
Excel: Directly export to Excel for easy manipulation and analysis.
Printable Worksheets
Printable Worksheets: Create paper versions of quizzes for offline use.
Each of these options offers unique advantages, depending on the target platform or use case. Evaluate your specific needs and choose the export option that best aligns with your objectives.
Note: some export formats may be in testing or beta only. If you don't see the option you need, please contact us and we can assist.
Create your first quiz, test or assessment for free
Explore the Quizgecko platform and create your first online quiz, test or assessment. No credit card required.