AI Powered
Multiple Choice Test Maker
Effortlessly create a multiple choice test from any text, webpages, or uploaded files. All with the power of AI. Input your text or URL, and let our multiple choice test and quiz maker do the rest - from articles and PDFs to Word documents and presentations.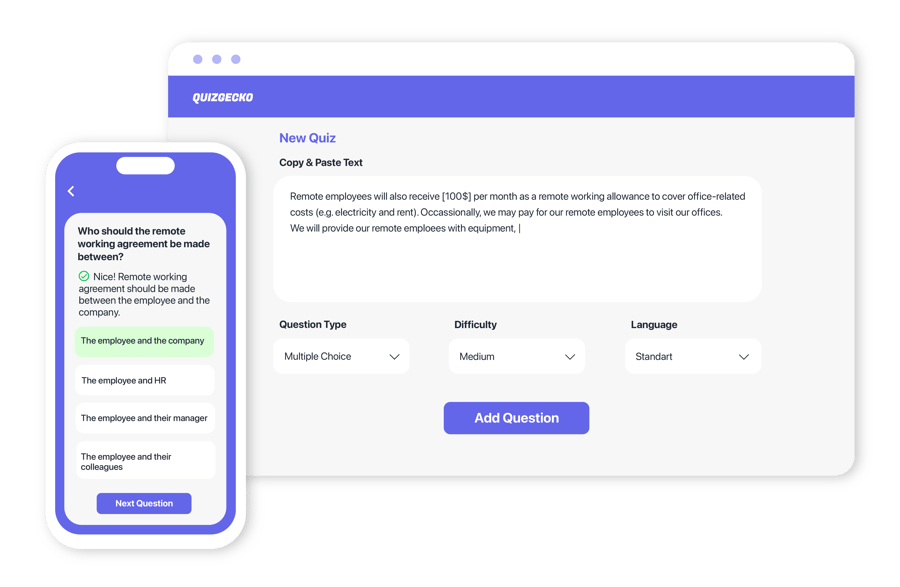 Trusted by businesses, educators, and individuals worldwide.
Business

Create assessments in no time to boost knowledge and evaluate skills. Whether it's for delivering trainings, developing courses, or certification - we've got you covered.

Educators

Elevate your teaching with AI-powered quiz, assessment, and exam generation. Save time on content creation, grading, and enhance student engagement.

Students

Learn smarter. Enjoy AI-generated quizzes, flashcards, and notes tailored to your unique learning needs. Save time, boost retention, and ace your exams with ease.
How To Use Our Multiple Choice Test Maker
Transform text into engaging tests and quizzes
Convert articles, documents, or even whole webpages into engaging test and quiz questions by just inputting the text or URL, or by uploading a file. Our AI-powered multiple choice test and quiz maker crafts a unique, educational experience from your content. Save hours and create an exciting learning journey with Quizgecko.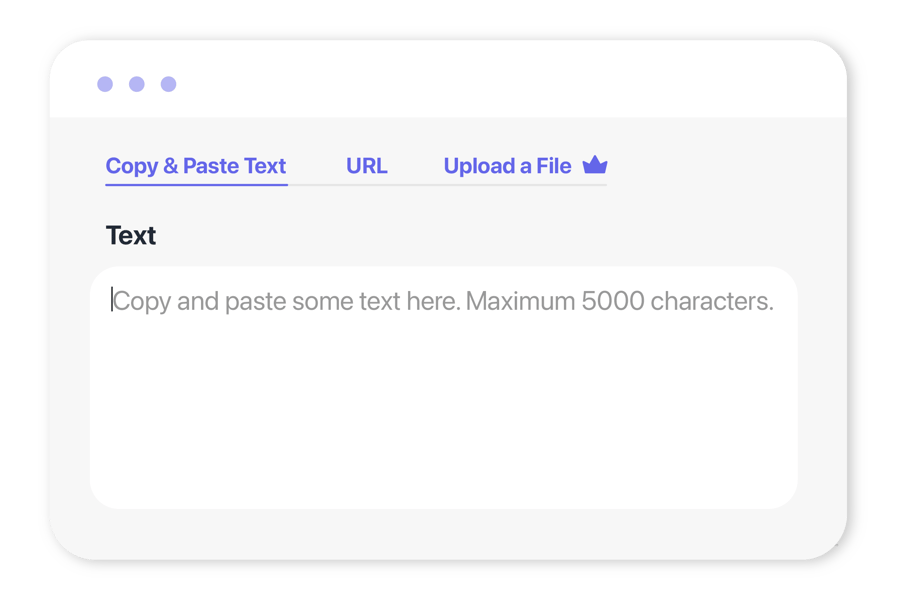 Select multiple choice quiz
To create an engaging multiple choice quiz, simply select "multiple choice" from the question type menu and click "generate." Our AI will meticulously analyze your content and generate a dynamic, interactive quiz tailored to your input. Enjoy the ease and convenience of Quizgecko while providing an immersive learning experience for your audience.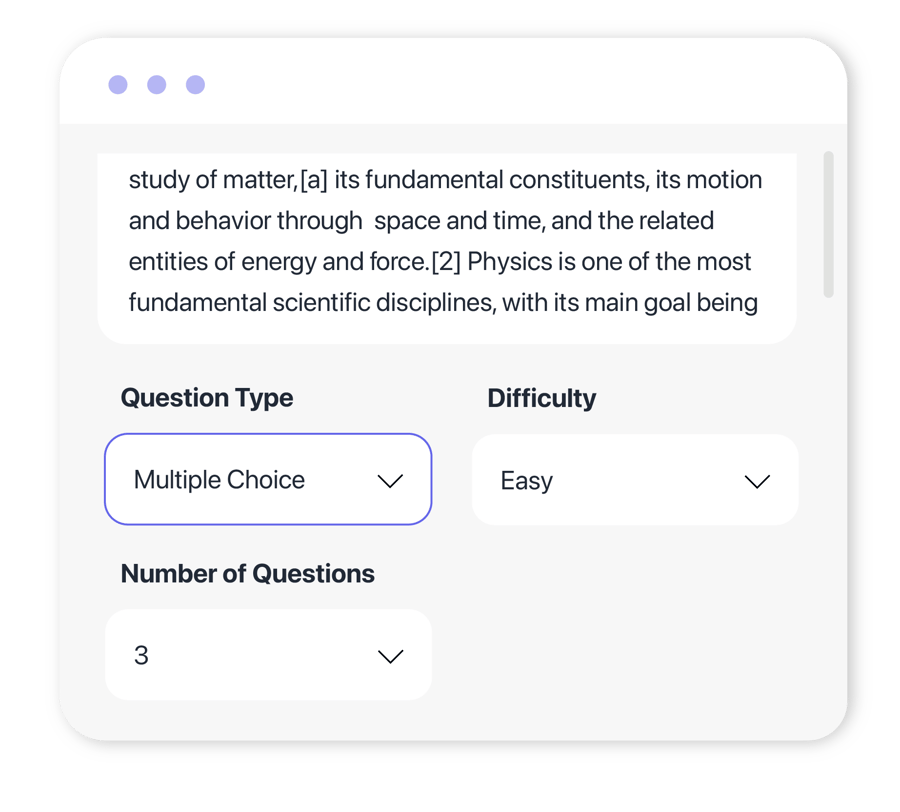 Create your quiz questions
Once you've set your preferences, click "generate" to bring your quiz to life. You can then dive into the results using our interactive quiz mode, offering an engaging way to test your knowledge. Alternatively, you can export your quiz as text to print, allowing for further customization or sharing across various platforms.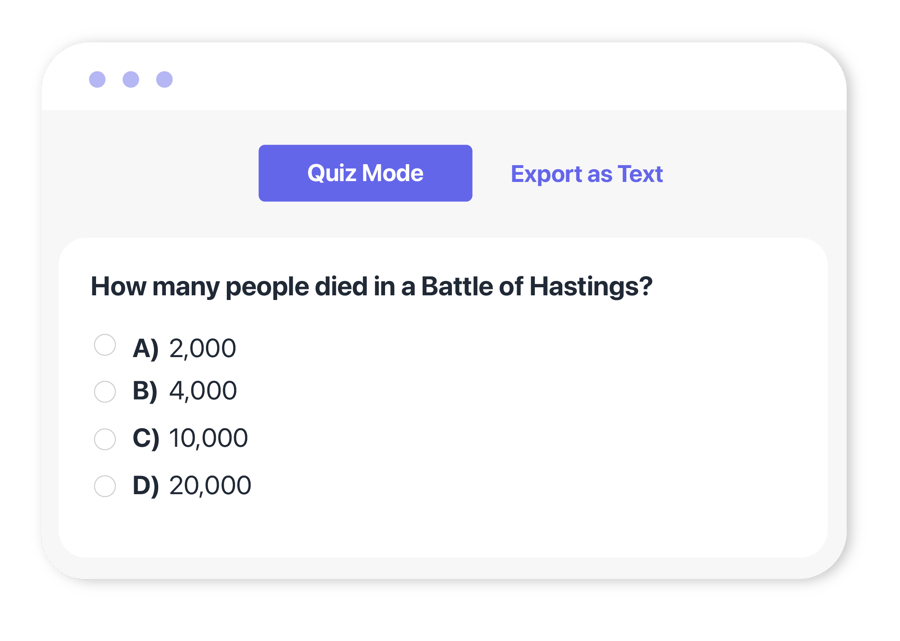 How AI Can Create Better Multiple Choice Questions
Harness the power of AI to make your test creation process simpler and more efficient with Quizgecko, a state-of-the-art question maker. Simply input any study material – text, webpages, videos, and more. Our AI will process the information and generate a comprehensive quiz for you.
The questions will be direct and simple, devoid of complex vocabulary. Our algorithms actively reformulate questions to use active voice instead of passive. We eradicate any ambiguity by eliminating double meanings, negative phrasing, or clues embedded in the question.
Our multiple choice test generator designs answer choices to stimulate critical thinking. All options seem plausible, with no clear hints. Choices are similar in length and format to prevent bias. Our AI even randomizes the order of answers to keep learners vigilant.
In a nutshell, we implement proven methodologies so you can focus on teaching concepts. Quizgecko's AI is continuously trained on real educator data to improve its question and test creation skills.
Benefits of AI-Powered Testing
Intelligently crafted tests engage students, deliver valuable feedback, and make learning enjoyable. Quizgecko delivers tests tailored to your needs while saving you time and effort.
Faster Test Creation
Convert any study material into a quiz in mere seconds with our question generator from text. No longer do you need to spend hours manually crafting question after question. Our AI manages the burdensome tasks while you focus on high-value activities.
Adaptive Learning
Keep enhancing your material and tests over time. Our algorithms learn from authentic educator data to constantly upgrade the relevance and quality of automatically generated questions.
Detailed Analytics
Obtain insights into student performance and comprehension. Identify concepts that require review. Discover trends across classes, cohorts, and periods.
Accessibility
Reach every student by creating tests in multiple languages. Quizgecko's AI seamlessly translates material into personalized quizzes for any audience. It also offers a robust true or false generator for an even more diverse set of questions.
Start Creating Better Tests Today
Stop spending unnecessary time constructing tests question by question. Quizgecko streamlines the process, enabling you to focus on your students. Our AI manages best practices and consistently improves, allowing you to reclaim hours in your work week.
Sign up now to convert any study material into a comprehensive quiz in seconds. Engage your students, gain insights, and make learning enjoyable with AI-powered testing.
Create your first quiz, test or assessment for free
Explore the Quizgecko platform and create your first online quiz, test or assessment. No credit card required.