AI Powered
Printable Quiz Generator
Tired of spending hours creating quizzes for your students or learners? Generate unique, printable quizzes in seconds with our AI-powered tool.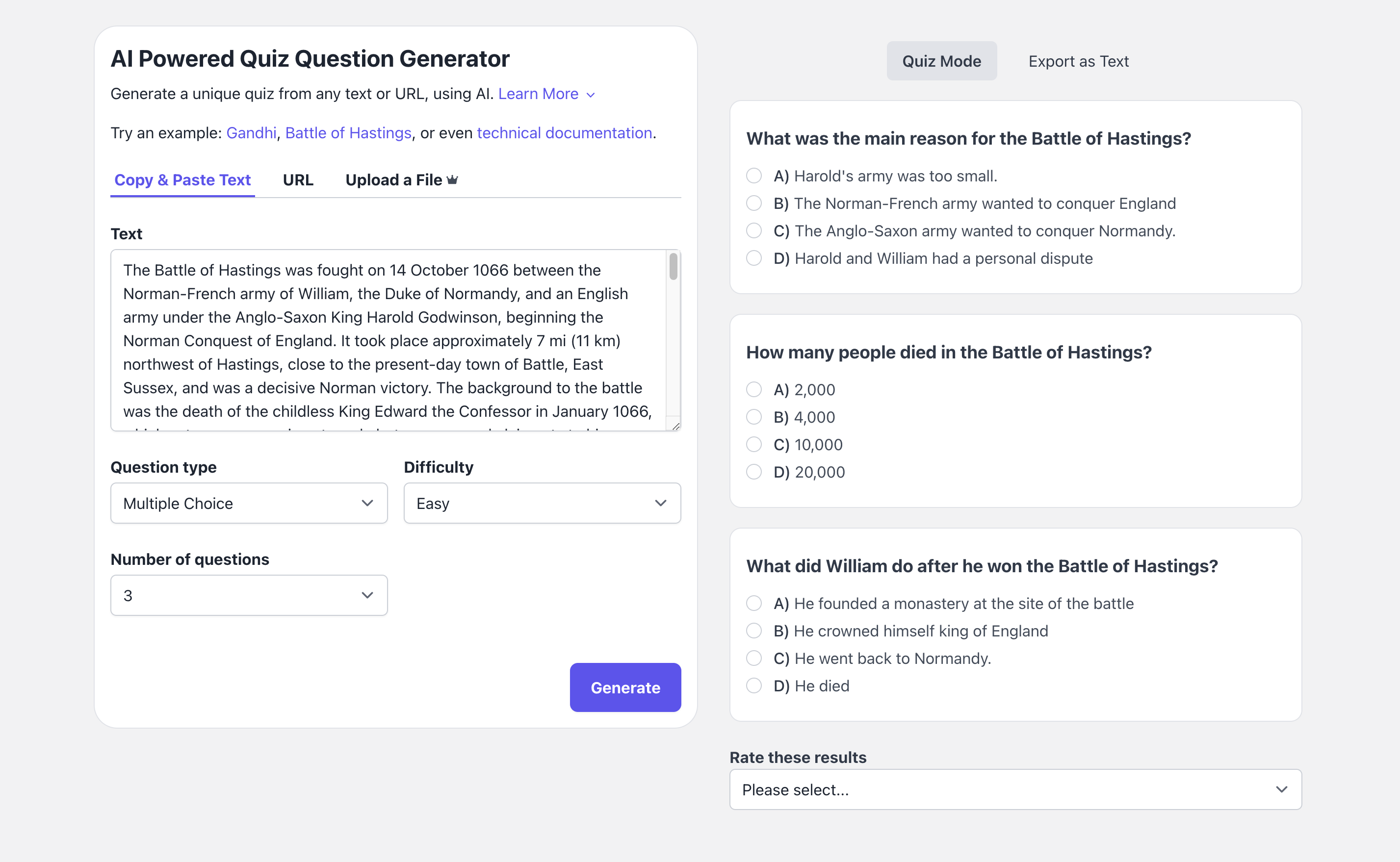 Designed with you in mind
Business
With the help of Quizgecko, you can speed up employee training and learning processes, increase engagement, and assess your team's knowledge.
Teachers
Quick and easy to use. Cut down on the time it takes to create teaching resources. Generate MCQs, true or false questions, short answer questions and more.
Students
Create quizzes from your notes, or from any piece of text. Use Quizgecko to test your knowledge and prepare for exams.
How to generate a quiz quiz
Step 1
Upload your content: Start by uploading your source material to Quizgecko. You can simply enter text, upload a file or paste in a URL. The platform supports various formats, ensuring that your content is easily accessible. This will enable the AI-driven quiz generator to generate accurate, unique, and well-structured questions based on your source content.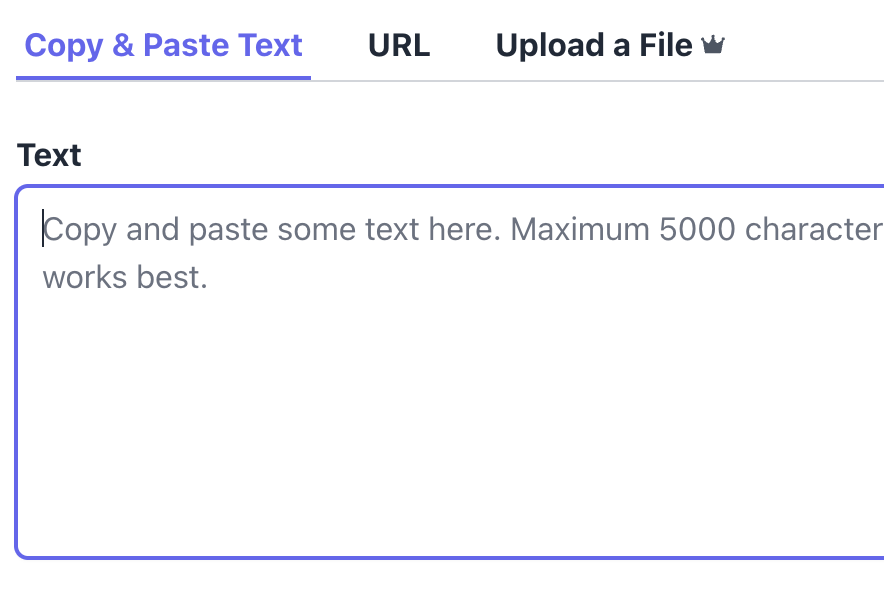 Step 2
Choose the question types and settings: Quizgecko offers multiple choice, true/false, short answer, and fill in the blank question formats. Select the types of questions you would like to include in your quiz, and customize the settings according to your needs. You can also decide to export your quiz to a text or CSV format, making it easy to import into other learning management systems (LMS).
Step 3
Generate and print your quiz: Once you have uploaded your content and customized your settings, click on the "Generate Quiz" button.
After the quiz has been generated, simply export as text to print.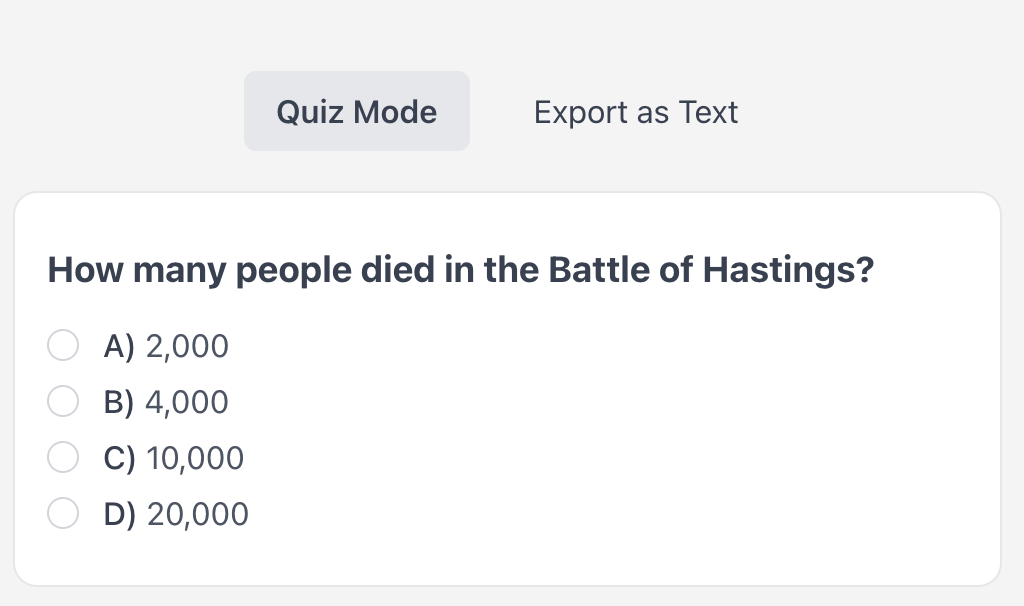 Your Printable Quiz Generator
Are you tired of spending hours creating quizzes for your students or learners? Look no further! Quizgecko is here to save the day as your go-to printable quiz generator. With its advanced AI-powered features, creating quizzes has never been easier and faster.
Features
Quizgecko offers a wide range of question types, including multiple-choice, true/false, short answer, and fill-in-the-blank questions. This variety ensures that you can create comprehensive quizzes to reinforce and evaluate your teaching effectively.
The platform lets you export your quizzes to text and CSV formats, so you can easily import them into other Learning Management System (LMS) platforms. You can also upload files or use URLs as a source of content, ensuring that your quizzes are accurate and derived from the appropriate source materials.
Quizgecko's user-friendly platform can be used for free without even creating an account! However, Pro users can generate more questions with advanced options for just a few dollars each month.
The AI used by Quizgecko is guided by the latest learning science research, ensuring that the generated questions are of high-quality and effective in reinforcing and evaluating your teaching. Additionally, the platform offers a shareable quiz mode, allowing students and learners to take your tests online.
If you want to integrate Quizgecko with your platform, an API is also available.
Benefits
Using Quizgecko as your printable quiz generator comes with numerous benefits:
Save time: Rapidly create quiz questions, allowing you to focus on other aspects of your teaching or training.
Accuracy: Since questions are derived from your source content, the quizzes generated by Quizgecko are accurate and relevant.
Avoid mistakes: The AI-powered platform reduces the chances of spelling and grammar mistakes in your quizzes.
New and unique questions: Generate fresh questions from your existing content, ensuring that your quizzes remain engaging and challenging.
Easy to use: The user-friendly interface makes creating quizzes a breeze, even for first-time users.
In summary, Quizgecko is the perfect solution for educators and trainers seeking a reliable and efficient printable quiz generator. For anyone looking to create high-quality quizzes without breaking a sweat, Quizgecko is an indispensable tool. Give Quizgecko a try today and revolutionize your quiz-making process!
Ready to create your own quiz quiz?