AI Powered
Free AI Powered Test Maker
Quizgecko is a versatile, AI-powered test maker, free for educators, businesses, and students. It offers a seamless experience in creating not just multiple-choice questions, but also true/false, short answer, fill-in-the-blank, and matching type queries, all in a quick and user-friendly way.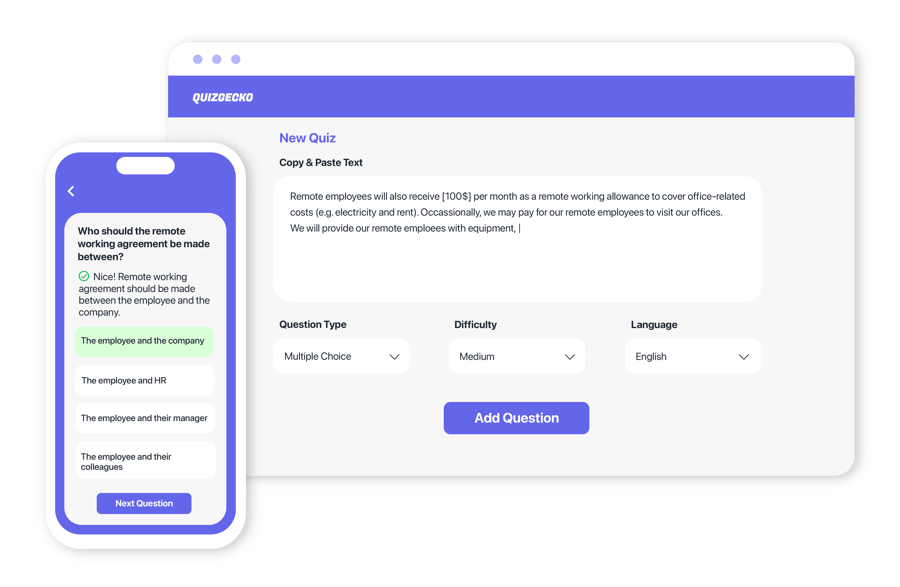 Trusted by businesses, educators, and individuals worldwide.
Business

Create assessments in no time to boost knowledge and evaluate skills. Whether it's for delivering trainings, developing courses, or certification - we've got you covered.

Educators

Elevate your teaching with AI-powered quiz, assessment, and exam generation. Save time on content creation, grading, and enhance student engagement.

Students

Learn smarter. Enjoy AI-generated quizzes, flashcards, and notes tailored to your unique learning needs. Save time, boost retention, and ace your exams with ease.
How to generate a test quiz
Step 1
Sign up for a free account at Quizgecko.com. This will allow you to access their free test maker for teachers.
Step 2
Upload your content from a file, or enter a URL. Quizgecko will automatically generate multiple choice, true/false, short answer, and fill in the blank questions from the content you provide.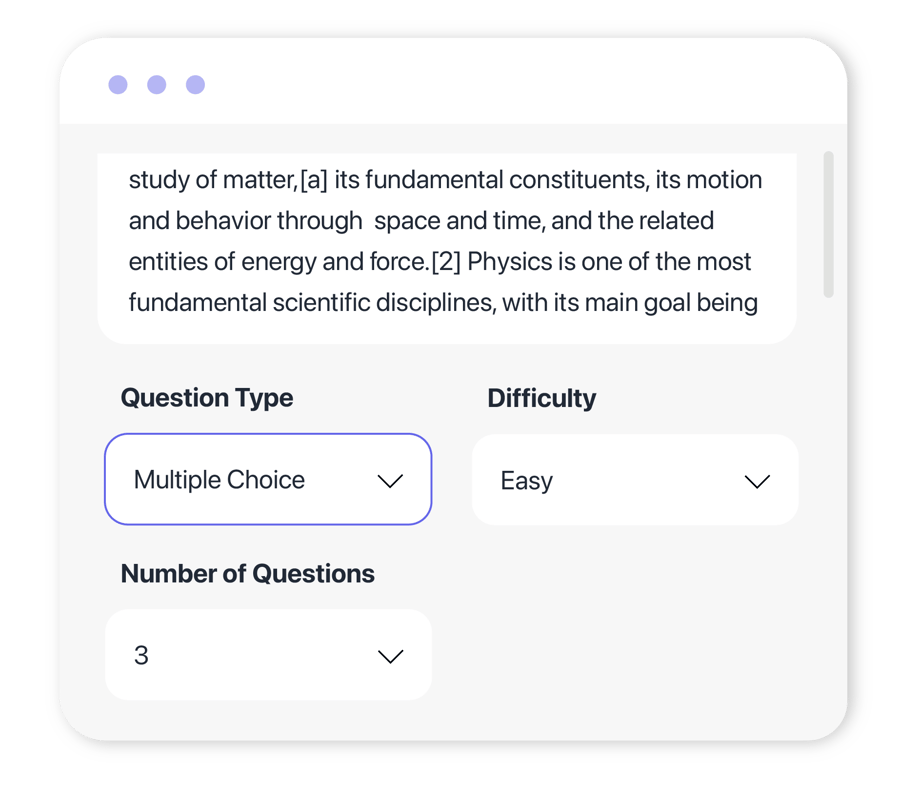 Step 3
You have the option to save your quiz in either text or CSV format, which makes it hassle-free to transfer it to other learning management systems. You can also create a link to your test that can be passed on to everyone taking the quiz.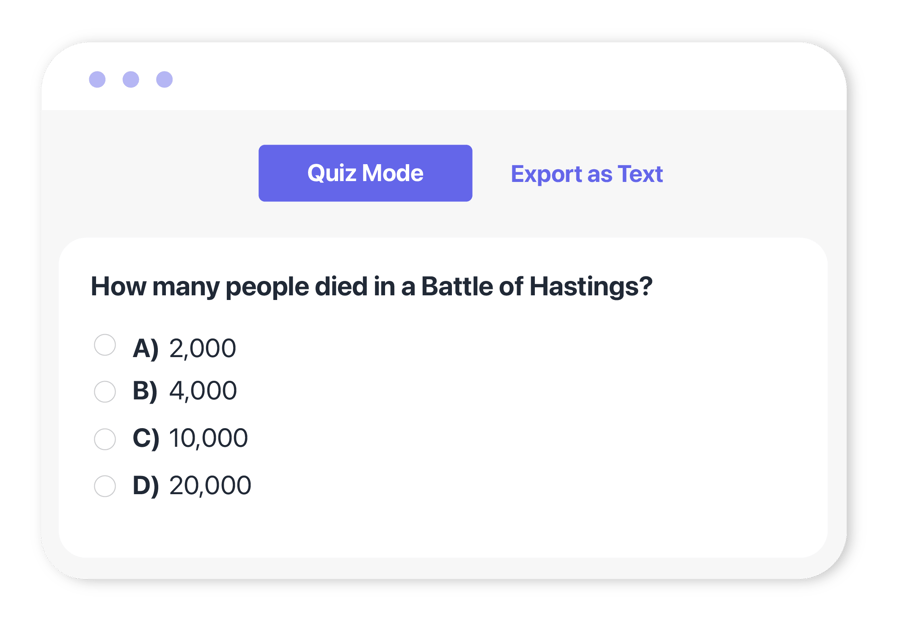 Making Great Tests With AI
Quizgecko is an AI powered test maker for teachers and businesses, that allows them to quickly and easily create multiple choice, true/false, short answer, and fill in the blank questions. It is incredibly easy to use, and teachers can try it out without even creating an account. Quizgecko is free to start using, and pro users can generate more questions with advanced options for just a few dollars each month.
Quizgecko uses the latest learning science to guide the AI to generate good questions. Much research has shown that multiple choice questions are an effective way to reinforce and evaluate teaching. Teachers can also upload files or use URLs as a source of content, and then export the questions to text and CSV to easily import into other LMS platforms.
The quiz mode allows students and learners to take the tests created by teachers. Quizgecko also offers an API for developers who wish to integrate their platform with Quizgecko. With this, teachers can rapidly create quiz questions much faster than before and avoid spelling and grammar mistakes all the time.
By using Quizgecko as a free test maker for teachers, they can generate new and unique questions from their existing content, and shareable quizzes with students. This makes it easier for teachers to create, deploy, and manage quizzes and tests with accuracy and ease. Quizgecko is a powerful, yet simple to use tool for teachers to use for their testing needs.
Create your first quiz, test or assessment for free
Explore the Quizgecko platform and create your first online quiz, test or assessment. No credit card required.