Updates
New features, updates and fixes. Suggest a feature.
More export formats
3rd October 2023

We now support 8 different LMS platforms including Canvas, Blackboard, Brightspace, Schoology, Moodle, itslearning, Sakai, NEO, in addition to QTI formats QTI 2.1, QTI 1.2. You can of course still export to CSV, Excel and Text.
Updated test sheet reports
14th September 2023

We've updated the test sheet reports for participants to view at the end of each quiz or assignment. The new reports are more detailed and easier to read.
New report export type
12th September 2023

Split participant exports into a full report (the existing one), plus a simplified report with just name and result for each question.
Fixes and improvements
8th September 2023

Fixed timezone issues relating to assignments

Fixed issue relating to some reports not being accessible
Canvas exports
23rd August 2023

New Feature: We have upgraded our exports, and now support Canvas via QTI. This will allow you to easily import your quizzes into Canvas LMS. We are working on supporting more Learning Management Systems, so stay tuned for more updates.
Assignments
Now you can assign a quiz, and track progress of your participants.
Set a start date and due date for the assignment to be completed in.
Customize settings for the assignment, such as whether to allow retakes.
Quiz improvements
We now save your progress, great for longer quizzes that you want to complete later.
Updated quiz interface, with better mobile support.
Question Images
26th July 2023
New Feature: You can now add images to your questions. This is great for visual questions, and for making your quizzes visually engaging. We'll be adding support for images in answers soon. To use, just click edit after creating a question, from there you can upload an image.
Matching Question Type
25th July 2023
New Feature: Introduced 'Matching Questions' in our quiz system.

Matching questions enhance the ability to identify associations and relationships between items, providing an effective measurement of understanding.
Especially beneficial for courses featuring key data like dates, names, places, and events, significantly aiding the assessment of knowledge retention.
Join codes
20th July 2023
Now all quizzes have a unique join code, which you can share with participants to join your quiz. This is a great way to run a quiz in a classroom setting.
Printable Worksheets
13th July 2023
You can now print your quiz as a worksheet, with or without answers. This is great for in-class activities and homework assignments.
---
Final answer reports
3rd July 2023
Participants will now receive a detailed report upon completing the quiz, highlighting their correct and incorrect responses. This can optionally be disabled in settings.
---
QTI (for Canvas LMS) export option
30th June 2023
We've added a new export option, the QTI file format. The QTI file format is used by Canvas LMS and other learning management systems. The feature is currently in beta and we'd love to hear your feedback.
---
New Customization Options
28nd June 2023
Timed questions: Ability to add timer for questions and the entire quiz/assessment.
Hide correct answers: Ability to skip showing the correct or incorrect answer after each question, instead the participant will see be taken to the next question immediately.
Pass mark: Set a pass mark, user will either pass or fail the test if their score is above or below this percentage.
Individual session answers: Now you can see participant responses for each question, for any session, in the reports dashboard.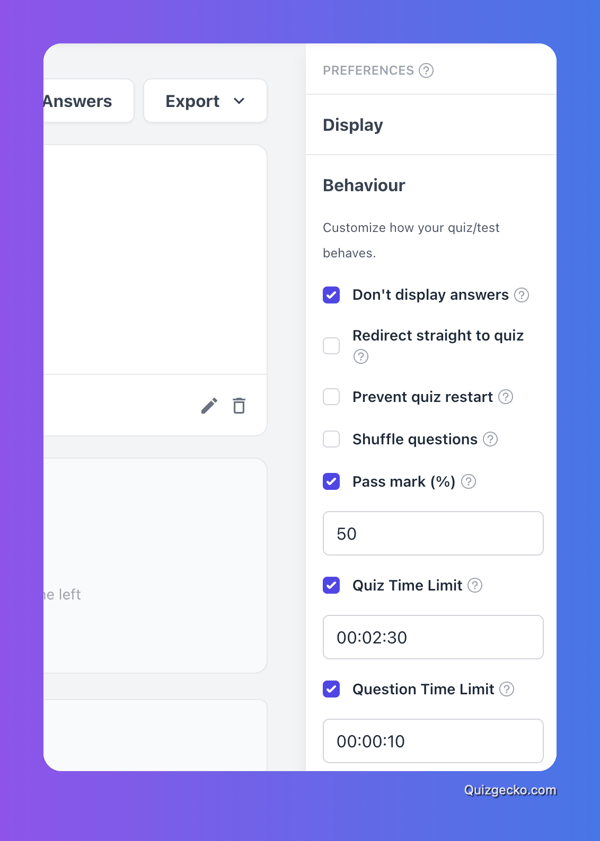 ---
Math support
22nd June 2023
Quizgecko now supports math equations! You can use LaTeX syntax to write math equations in your questions.
Simply wrap your equation in $ and it will be rendered as a math equation. Learn more here.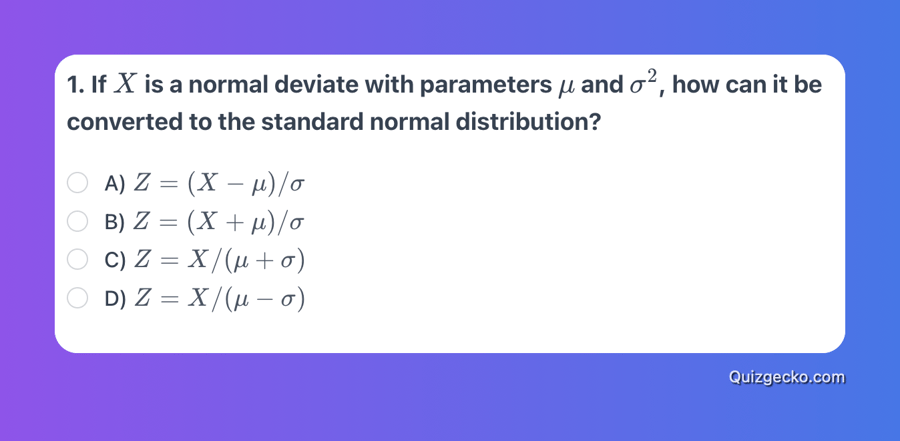 ---
Report fixes & improvements
20th June 2023
We have fixed a bug where participant emails were not always being shown in the dashboard and exports.
You can now also export all individual sessions to see participant responses, to a CSV file.
---
Cover Images
18th June 2023
Now you can add a cover image to your quiz! This will be shown on the quiz landing page and when sharing your quiz on social media.
What's more, you can use AI to generate an awesome piece of art, based on your content. Give it a try!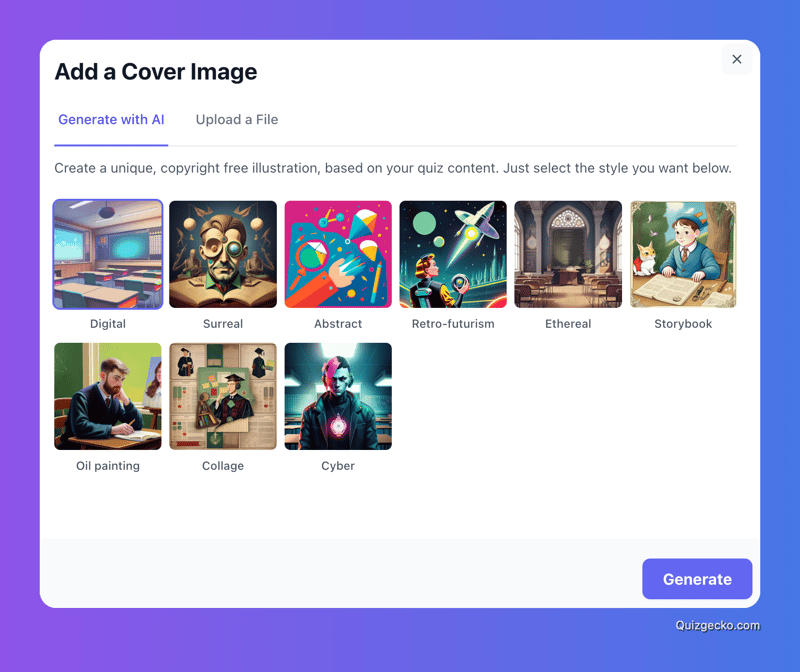 ---