The Original AI Question Generator
The easiest online test and quiz maker
Automatically generate questions for online quizzes, tests and exams.
Loved by 1500+ customers.
Trusted by businesses, educators, and individuals worldwide.
Business

Create assessments in no time to boost knowledge and evaluate skills. Whether it's for delivering trainings, developing courses, or certification - we've got you covered.

Educators

Elevate your teaching with AI-powered quiz, assessment, and exam generation. Save time on content creation, grading, and enhance student engagement.

Students

Learn smarter. Enjoy AI-generated quizzes, flashcards, and notes tailored to your unique learning needs. Save time, boost retention, and ace your exams with ease.
How it works
1. Create
Make quizzes and tests instantly
Use AI to create quizzes, exams, and assessments. All from your existing content.
AI-Powered.

Transform anything into a quiz, complete with answers and explanations. Upload files like PDFs, DOCs, and PPTs to create assessments and exams.

Multiple question types.

Generate multiple choice, true or false, short answer essay, matching, and fill-in-the-blank style questions.

Customizable.

Configure your quizzes and exams to your exact specifications. Set time limits, randomize questions, and more.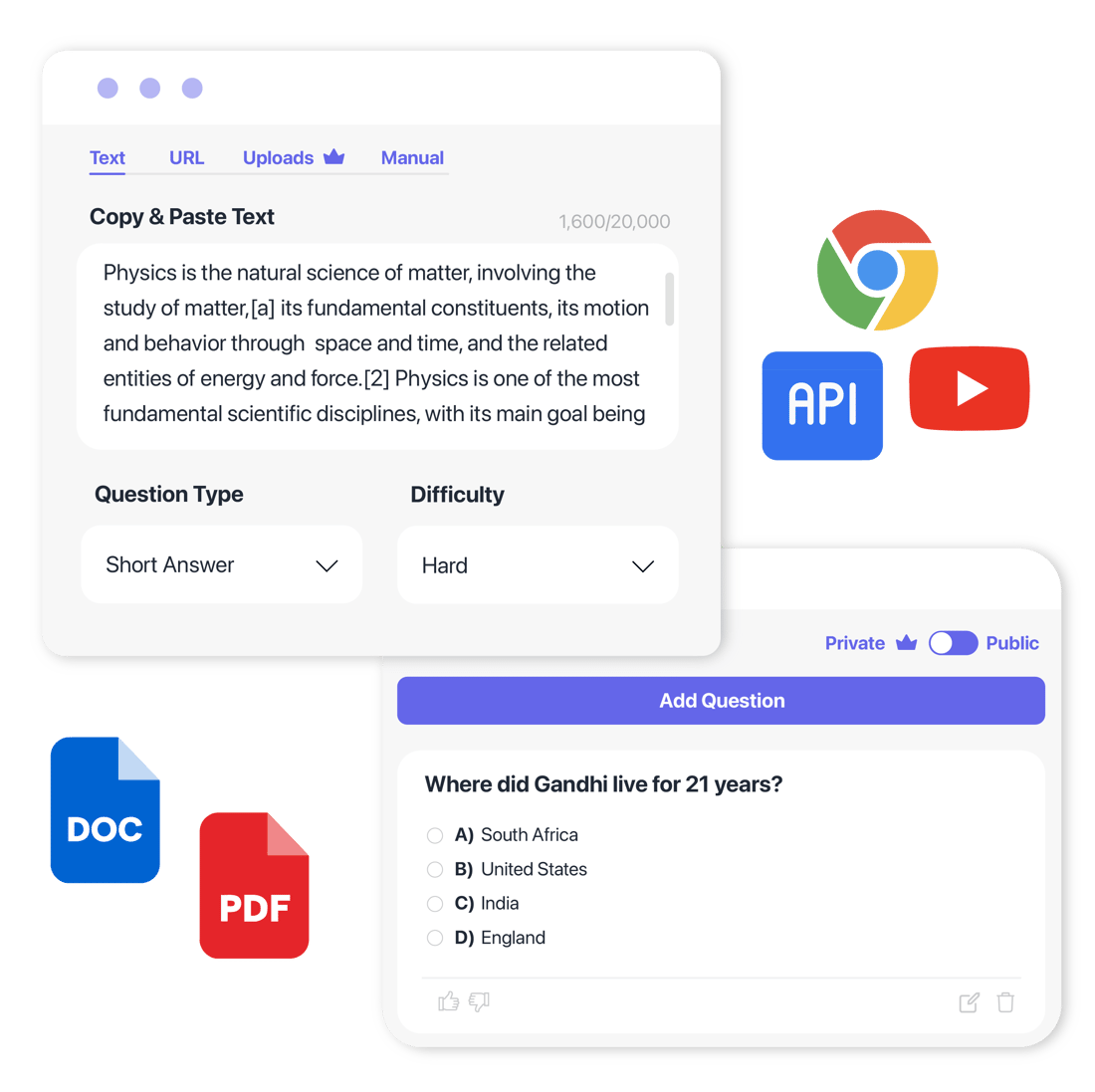 2. Share & Embed
Publish with ease
Share quizzes and tests with your team or students easily, boosting engagement and learning in no time.
Share.

Quickly share any quiz for anyone to take.

Assign.

Assign quizzes to learners, with a due date and time limit.

Export & Embed.

Add quizzes in your own website, LMS or blog. Perfect for lead generation, engaging your users and custom learning experiences.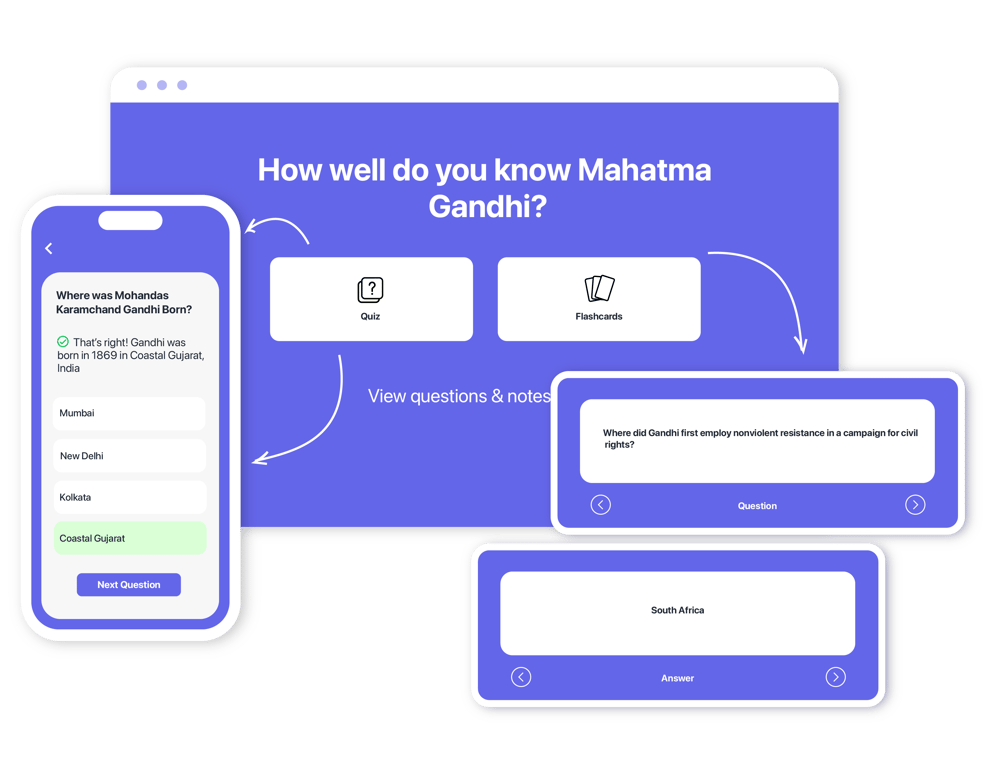 3. Analyze
Measure performance
Reports and stats to understand how individuals and groups performed. Auto-graded exams make marking a thing of the past.
Auto Grading.

Quizgecko intelligently evaluates and grades short answer questions, going the extra mile by offering valuable suggestions on how to improve and attain higher scores.

Feedback.

AI-powered feedback helps learners understand their mistakes and improve their performance.

Smart Reports.

See how employees or students are performing with our smart analytics reports.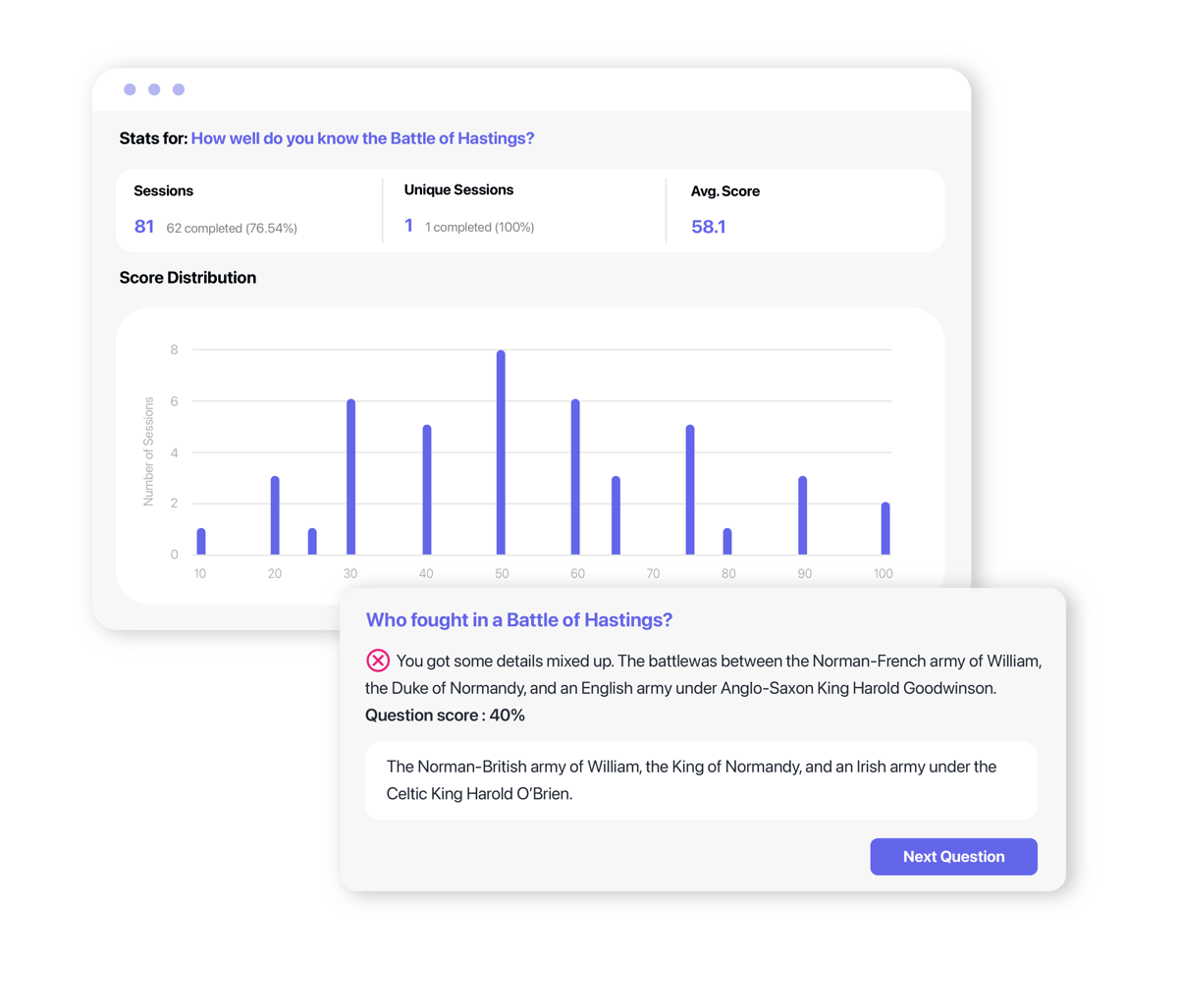 What our customers are saying


Quizgecko's AI-powered question and answer generator works by first analyzing and extracting the key facts from any text. Then we use the same AI that powers ChatGPT to generate different types of questions and answers.

Whether you have a piece of educational content, a webpage, a YouTube video, or even a PDF or Word file, Quizgecko can transform it into a quiz or assessment.

To get started, simply input your text or the URL/link to the content you want to turn into a quiz. Quizgecko will then analyze the text and generate relevant questions for you.

For more information about how Quizgecko's AI works and how it can benefit you, check out our features page.

Quizgecko is perfect for generating quizzes, assessments, exams, and tests. Whether you are a teacher, student, or business, you'll find that the platform is flexible enough for all purposes.

With our AI quiz maker, you can turn any text into a quiz. This means you can use it to create quizzes for studying, training, or evaluating knowledge. Teachers can use it to create quizzes for their students, while businesses can create quizzes for employee assessments.

The platform is also great for generating quick assessments or practice tests. You can use it to generate questions for sample exams, mock quizzes, or interactive study material to help you prepare for exams or improve your understanding of a subject.

Additionally, Quizgecko allows you to export your generated quizzes, embed them in websites or learning management systems (LMS), and share them with colleagues, friends, or students. This makes it easy to distribute quizzes and engage your audience.

Whether you need to create quizzes for educational purposes, training programs, or marketing campaigns, Quizgecko has got you covered.

To learn more about the specific features and capabilities of Quizgecko, check out our features page.

How do I use the AI question generator?

Creating a quiz with our AI question generator is simple and easy. To get started, you have a few options:

Paste in any text you want to generate questions from. Our AI will analyze the text and generate relevant quiz questions for you.
Enter the URL of a webpage, and Quizgecko will extract the text from that page and generate questions from it.
Upload a suitable file, such as a PDF, Word document, or other supported file types. Our AI will process the file and generate questions based on its content.

After you have entered your input, simply hit the "Generate" button, and Quizgecko will start generating questions for your quiz. You can customize the generated quiz by selecting the question types you prefer, setting the difficulty level, and specifying how many questions you want to include.

And now, with our new "Assign" feature, you can easily manage how participants interact with your quiz. Assign quizzes to learners, set due dates and time limits, and track their performance effortlessly.

Making a test with Quizgecko is easy and efficient. Our platform utilizes AI technology to generate questions from any text you provide. Here's how you can create a test:

Visit the Quizgecko website and sign in to your account. If you don't have an account yet, you can create one for free.
Click on the "Create" button on the navigation bar to start creating your test.
Choose the type of questions you want for your test. Quizgecko offers multiple question types, including multiple choice, true or false, fill-in-the-blank, and short answer questions.
Paste your text into the text input box and click on the "Generate Questions" button. Quizgecko will intelligently analyze your text and generate relevant questions for your test.
Review and edit the generated questions as needed. You can customize the wording, add answer choices, and adjust the difficulty level.
Once you are satisfied with your test, you can save it and proceed to the next step.
Utilize the "Assign" feature to distribute your test to participants. You can choose to prevent retakes, hide answers after submission, and set a time limit for completion.
Share the test link with your participants or embed it in your website, learning management system, or blog for easy access.

What type of quiz/test questions can I create?

You can create multiple choice questions, true or false questions, short answer questions, matching and fill in the blank questions from any text.

By clicking "Add" after you have generated the first set of questions, you can add additional questions to your quiz.

How much text do I need to add?

We recommend that you use a minimum of 500 words. More text will generally result in better questions. If you want to generate up to 12+ questions then you'll generally need over a thousand words. We recommend that you break very long pieces of text into topical categories. You can make a quiz with any number of total questions.

Additionally, if you don't have a specific text to use, you can take advantage of our topic mode. Simply enter a general topic and our AI will search the web and find relevant content for you. This way, you can effortlessly generate quizzes without having to provide your own text.

To try out our topic mode or for more information, visit our AI-Powered Exam Question Generator

How can I share my quiz or test?

After you have made your own quiz or assessment using the Quizgecko quiz maker, you can easily share it with your team, students, or friends.

To share your quiz, simply copy the shareable URL provided by Quizgecko and send it to your desired recipients. They will be able to access and take the quiz using the link you shared.

But before you share, Quizgecko gives you the option to customize and configure the quiz settings to your specific requirements.

How can I export my quiz questions?

You can export your generated quiz questions in various formats to meet your needs. Quizgecko supports the following export options:

Text export: Export your questions as simple text using the Aiken format. This format is compatible with many popular learning management systems (LMS) such as Canvas, Blackboard, Moodle, Schoology, and more. You can easily import the exported text file into your chosen LMS to create quizzes and assessments in minutes.
CSV export: Quizgecko also allows you to export your questions in CSV (Comma-Separated Values) format. This format is widely used and can be easily imported into various applications, including spreadsheets and LMS platforms, for further customization and analysis of your quiz questions.
QTI export: If you are using specific learning management systems like Canvas, Blackboard, Moodle, or Schoology, you can take advantage of Quizgecko's QTI (Question and Test Interoperability) export feature. QTI files provide a standardized format for importing quizzes and questions into these LMS platforms. Simply export your quiz questions as QTI files from Quizgecko and effortlessly import them into your desired LMS.

No matter which export format you choose, Quizgecko ensures seamless integration with your preferred learning management system or other applications. This saves you time and effort, allowing you to focus on creating engaging quizzes and assessments for your learners.

What text can I use to generate quiz or test questions?

Quizgecko is an AI question generator that can create quizzes from various sources. You can input text from articles, presentations, notes, or even URLs. For Pro users, file uploads are also available. Our system will attempt to extract the text and formulate quiz questions from it. Please ensure that you have the right to use the selected text before proceeding.

How do I cancel my subscription?

You can cancel your subscription at any time simply by clicking "Cancel Plan" in the billing section. Please check you are logged in first. If you cancel, you will continue to have access to your account until the end of your current billing period. If you cancel during your current billing period you will not be charged for the next billing period.

Do you offer a free trial?

We don't offer free trials, but we do offer a free plan that allows you to generate up to 3 quizzes per month. This is normally enough to try out the service and see if it's right for you.

How can I improve the quality of results?

Virtually any text will work but using factual text content (as opposed to opinion, discussion or narrative) generally results in better questions. If you notice that the AI is frequently generating incorrect answers, then this is typically because the text is suboptimal.

Are the answers always correct?

If quality, accurate text is used, then it's rare for the AI to make factual errors. It's important to note though, that like humans, the AI can make mistakes and 100% accuracy cannot be guaranteed.

Yes, you can use our question generator API from text. Ideal for developers who want to implement question and answer generation into LMS platforms, e-learning platforms, or other applications Learn more.

Do you have a Chrome extension?

Yes, we have a free Chrome extension that allows you to generate questions and answers directly from any web page. Install our Chrome Extension.

Can I generate a quiz from a Youtube video?

Absolutely! With Quizgecko, you can easily generate a quiz from any Youtube video. Simply copy and paste the Youtube URL into our platform, or use our convenient Chrome extension to generate questions directly from the video transcript. This feature is perfect for educators, trainers, and content creators who want to turn educational videos into engaging quizzes and assessments. Start creating interactive quizzes from Youtube videos today and enhance your learners' experience!

Can I track the progress and performance of the users taking my quizzes?

Yes, Quizgecko provides comprehensive analytics and reporting features that allow you to track the progress and performance of users taking your quizzes. With our smart analytics reports, you can easily measure individual and group performance. Gain insights into how employees or students are performing and identify areas for improvement.

Our auto-grading feature intelligently evaluates and grades short answer questions, going the extra mile by offering valuable suggestions on how learners can improve and attain higher scores. Additionally, Quizgecko offers AI-powered feedback that helps learners understand their mistakes and guide their learning journey. By leveraging these analytics and feedback features, you can enhance the learning experience and drive better results.

Can I include images or multimedia in my quizzes?

Yes, you can definitely include images or multimedia in your quizzes on Quizgecko.

Quizgecko allows you to upload images to the quiz, both as a cover image and as part of individual questions.

This means you can ask questions about an image or use visuals to enhance your quizzes and engage your audience.
Latest Blog Posts
Find out about the different teaching methods you can apply in the classroom.
Find out whether formal or informal assessments are better for evaluating a student's performance.
Learn more about the different types of assessment in education.